Energy & Environmental Science are delighted to announce that Professor Yang Shao-Horn joins the Editorial Board of the journal.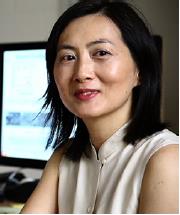 Yang Shao-Horn is W.M. Keck Professor of Energy at MIT. Her research is centered on the chemical physics of surfaces with emphasis on metal oxides, searching for descriptors of catalytic activity, and reactivity between oxides and ion conductors, wetting properties and ion transport, and design materials for solar fuel and batteries including electrochemical/photoelectrochemical water splitting and CO2 reduction, ion/electron storage, and ion conductors. Professor Yang's research includes extensive experimental components, including synthesis of well-defined surfaces and nanostructured materials, and investigation of processes at the surfaces/interfaces using electrochemical methods coupled with ex situ and in situ X-ray-based and electron-based spectroscopy. These experimental components are used in conjunction with Density Functional Theory computation efforts to develop new, physically based reaction mechanisms and design principles of materials. Professor Yang has published ~200 archival journal papers.
Read Professor Yang's latest article in EES here:
Jae-Il Jung, Marcel Risch, Seungkyu Park, Min Gyu Kim, Gyutae Nam, Hu-Young Jeong, Yang Shao-Horn and Jaephil Cho
Energy Environ. Sci., 2016, 9, 176-183. DOI: 10.1039/C5EE03124A.
Professor Yang and the rest of the Editorial Board invite you to submit your best work to EES now!