Jointly organized by the Institute of Nanostructured Materials of Italy's Research Council (CNR) and by Palermo's University Department of Electrical Engineering (DEIM), the third "SuNEC – Sun New Energy Conference" was held in Santa Flavia, Sicily, on September 10-12, 2013.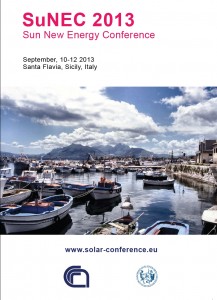 The lectures, oral presentations and poster presentations highlighted approaches to exploit solar energy, including concentrated solar power, thin-film photovoltaics, artifical photosynthesis and solar thermal energy.
Invited speakers at SuNEC 2013 included Yu A. Baurov (Russian Academy of the Sciences), Wai-Yeung Wong (Hong Kong Baptist University) Antonino S. Aricò (CNR, Italy), Francesco Meneguzzo (CNR, Italy) as well as novelist and thinker Ottavio Cappellani (Catania, Italy).
The winner of the 2013 Poster presentation was Maria Rita Girolamo.
The 4th edition of the SuNEC Conference will be held in Sicily again, on the 8-10th September 2014. Interested scientists can easily register online at www.solar-conference.eu.
You might be interested in these articles in EES:
Solar hydrogen: fuel of the near future
Mario Pagliaro, Athanasios G. Konstandopoulos, Rosaria Ciriminna and Giovanni Palmisano
Journal Article Energy Environ. Sci., 2010,3, 279-287
DOI: 10.1039/B923793N, Perspective
Solar cells with one-day energy payback for the factories of the future
Nieves Espinosa, Markus Hösel, Dechan Angmo and Frederik C. Krebs
Journal Article Energy Environ. Sci., 2012,5, 5117-5132
DOI: 10.1039/C1EE02728J, Analysis
Plasmonic solar water splitting
Scott C. Warren and Elijah Thimsen
Journal Article Energy Environ. Sci., 2012,5, 5133-5146
DOI: 10.1039/C1EE02875H, Review Article
You might also be interested in our solar fuels and solar photovoltaics collections.
View "A focus on solar photovoltaics"