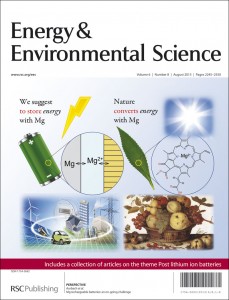 Energy & Environmental Science is delighted to present its current issue which includes an excellent collection of articles on the theme of "New energy storage devices for post lithium-ion batteries", Guest Edited by Haoshen Zhou. Read his Editorial to find out more.
The outside front cover features a perspective article "Mg rechargeable batteries: an on-going challenge" by Hyun Deog Yoo, Ivgeni Shterenberg, Yosef Gofer, Gregory Gershinsky, Nir Pour and Doron Aurbach.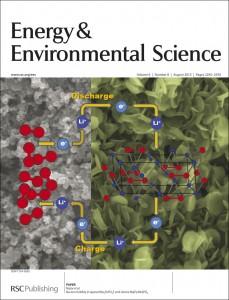 The inside front cover features an article by Nazar et al. – "Na-ion mobility in layered Na2FePO4F and olivine Na[Fe,Mn]PO4"
Highlights of this issue include:
Towards sustainable and versatile energy storage devices: an overview of organic electrode materials
Zhiping Song and Haoshen Zhou, Energy Environ. Sci., 2013, 6, 2280
The pursuit of rechargeable solid-state Li–air batteries
Fujun Li, Hirokazu Kitaura and Haoshen Zhou, Energy Environ. Sci., 2013, 6, 2302
 
Room-temperature stationary sodium-ion batteries for large-scale electric energy storage
Huilin Pan, Yong-Sheng Hu and Liquan Chen, Energy Environ. Sci., 2013, 6, 2338
Keep up to date with our latest news: sign up for our e-alerts and follow us on Facebook and Twitter.