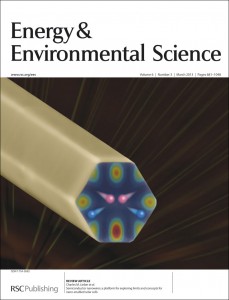 It's always interesting to see what people have enjoyed reading over the past year in Energy & Environmental Science. In 2012 the articles cover a range of topics from advanced batteries to thermoelectric materials to solar cells including comprehensive reviews, original research and some personal Perspectives. Please do take a look – we are confident you'll find something of interest.
Our free table-of-contents e-alert allows you to keep up to date with each issue as it is published.
On behalf of Editor-in-Chief Nathan Lewis (Caltech) we invite you to submit your best research to EES in 2013.
Top 25 most-read Energy & Environmental Science articles in 2012:
Challenges in the development of advanced Li-ion batteries: a review
Vinodkumar Etacheri, Rotem Marom, Ran Elazari, Gregory Salitra and Doron Aurbach
DOI: 10.1039/C1EE01598B
Graphene based new energy materials
Yiqing Sun, Qiong Wu and Gaoquan Shi
DOI: 10.1039/C0EE00683A
Review of solutions to global warming, air pollution, and energy security
Mark Z. Jacobson
DOI: 10.1039/B809990C
Recent advances in hybrid photocatalysts for solar fuel production
Phong D. Tran, Lydia H. Wong, James Barber and Joachim S. C. Loo
DOI: 10.1039/C2EE02849B
Organic tandem solar cells: A review
Tayebeh Ameri, Gilles Dennler, Christoph Lungenschmied and Christoph J. Brabec
DOI: 10.1039/B817952B
Na-ion batteries, recent advances and present challenges to become low cost energy storage systems
Verónica Palomares, Paula Serras, Irune Villaluenga, Karina B. Hueso, Javier Carretero-González and Teófilo Rojo
DOI: 10.1039/C2EE02781J
Recent advances in solution-processed interfacial materials for efficient and stable polymer solar cells
Hin-Lap Yip and Alex K.-Y. Jen
DOI: 10.1039/C2EE02806A
Organic photovoltaics
Bernard Kippelen and Jean-Luc Brédas
DOI: 10.1039/B812502N
Recent advances in micro-/nano-structured hollow spheres for energy applications: From simple to complex systems
Xiaoyong Lai, Jonathan E. Halpert and Dan Wang
DOI: 10.1039/C1EE02426D
Electrical energy storage for transportation—approaching the limits of, and going beyond, lithium-ion batteries
Michael M. Thackeray, Christopher Wolverton and Eric D. Isaacs
DOI: 10.1039/C2EE21892E
Understanding and recent development of carbon coating on LiFePO4 cathode materials for lithium-ion batteries
Jiajun Wang and Xueliang Sun
DOI: 10.1039/C1EE01263K
Recent developments in nanostructured anode materials for rechargeable lithium-ion batteries
Liwen Ji, Zhan Lin, Mataz Alcoutlabi and Xiangwu Zhang
DOI: 10.1039/C0EE00699H
Catalysts made of earth-abundant elements (Co, Ni, Fe) for water splitting: Recent progress and future challenges
Pingwu Du and Richard Eisenberg
DOI: 10.1039/C2EE03250C
Plasmonic solar water splitting
Scott C. Warren and Elijah Thimsen
DOI: 10.1039/C1EE02875H
Bulk nanostructured thermoelectric materials: current research and future prospects
A. J. Minnich, M. S. Dresselhaus, Z. F. Ren and G. Chen
DOI: 10.1039/B822664B
Perspectives on thermoelectrics: from fundamentals to device applications
M. Zebarjadi, K. Esfarjani, M. S. Dresselhaus, Z. F. Ren and G. Chen
DOI: 10.1039/C1EE02497C
Nanostructured ceria-based materials: synthesis, properties, and applications
Chunwen Sun, Hong Li and Liquan Chen
DOI: 10.1039/C2EE22310D
High-efficiency dye-sensitized solar cell with a novel co-adsorbent
Liyuan Han, Ashraful Islam, Han Chen, Chandrasekharam Malapaka, Barreddi Chiranjeevi, Shufang Zhang, Xudong Yang and Masatoshi Yanagida
DOI: 10.1039/C2EE03418B
Nanostructured silicon for high capacity lithium battery anodes
Jeannine R. Szczech and Song Jin
DOI: 10.1039/C0EE00281J
Facile synthesis of Au@TiO2 core–shell hollow spheres for dye-sensitized solar cells with remarkably improved efficiency
Jiang Du, Jian Qi, Dan Wang and Zhiyong Tang
DOI: 10.1039/C2EE21264A
Graphitic carbon nitride materials: controllable synthesis and applications in fuel cells and photocatalysis
Yao Zheng, Jian Liu, Ji Liang, Mietek Jaroniec and Shi Zhang Qiao
DOI: 10.1039/C2EE03479D
Novel nanostructures for next generation dye-sensitized solar cells
Nicolas Tétreault and Michael Grätzel
DOI: 10.1039/C2EE03242B
Exploring the large voltage range of carbon/carbon supercapacitors in aqueous lithium sulfate electrolyte
Qiang Gao, Laurent Demarconnay, Encarnación Raymundo-Piñero and François Béguin
DOI: 10.1039/C2EE22284A
Carbon nanotubes for lithium ion batteries
Brian J. Landi, Matthew J. Ganter, Cory D. Cress, Roberta A. DiLeo and Ryne P. Raffaelle
DOI: 10.1039/B904116H
Lithium-ion batteries. A look into the future
Bruno Scrosati, Jusef Hassoun and Yang-Kook Sun
DOI: 10.1039/C1EE01388B