The latest issue of Energy & Environmental Science is now online. You can read the full issue here.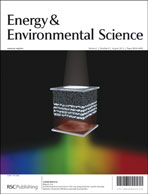 The outside front cover features an article on Introducing structural colour in DSCs by using photonic crystals: interplay between conversion efficiency and optical properties by Daniele Colonna, Silvia Colodrero, Henrik Lindström, Aldo Di Carlo and Hernán Míguez.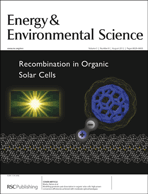 Modeling geminate pair dissociation in organic solar cells: high power conversion efficiencies achieved with moderate optical bandgaps is the article highlighted on the inside front cover by Jonathan D. Servaites, Brett M. Savoie, Joseph B. Brink, Tobin J. Marks and Mark A. Ratner.
Issue 8 contains the following Review, Perspective and Minireview articles:
Review articles
Morphology characterization in organic and hybrid solar cells
Wei Chen, Maxim P. Nikiforov and Seth B. Darling
Energy Environ. Sci., 2012, 5, 8045-8074
DOI: 10.1039/C2EE22056C
A review on nanomaterials for environmental remediation
Mya Mya Khin, A. Sreekumaran Nair, V. Jagadeesh Babu, Rajendiran Murugan and Seeram Ramakrishna
Energy Environ. Sci., 2012, 5, 8075-8109
DOI: 10.1039/C2EE21818F
Perspectives
Minireviews
Fancy submitting an article to Energy & Environmental Science? Then why not submit to us today!