Energy & Environmental Science's  issue 7  is now online and includes a collection of articles on the theme of Proton-Coupled Electron Transfer, Guest Edited by Marc Robert and Dr Elodie Anxolabéhère-Mallart (Université Paris Diderot). You can read the full themed issue here.
Issue 7's themed collection contains articles of interest such as the Editorial by Marc Robert Proton-coupled electron transfer and the following feature Perspectives:
Perspectives
The outside front cover features a Communication on the Pyrolytic conversion of cellulose to fuels: levoglucosan deoxygenation via elimination and cyclization within molten biomass by Matthew S. Mettler, Alex D. Paulsen, Dionisios G. Vlachos and Paul J. Dauenhauer.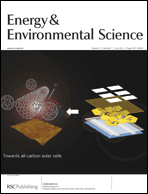 Towards solution processed all-carbon solar cells: a perspective is the Perspective highlighted on the inside front cover by Vincent C. Tung, Jen-Hsien Huang, Jaemyung Kim, Alexander J. Smith, Chih-Wei Chu and Jiaxing Huang.
Issue 7 also includes other articles of from the journal's broad scope including these Review and Perspective articles:
Keep up to date with our latest news: sign up for our e-alerts and follow us on Facebook and Twitter.