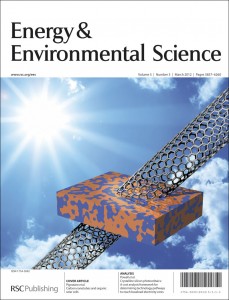 Energy & Environmental Science publishes high impact Communications of significant general interest to the journal's wide readership. With an official Impact Factor of 9.49, Energy & Environmental Science is the #1 ranked journal in its field.
Now Energy & Environmental Science's Accepted Manuscript service means your research is published, in citable form, on average within one day of acceptance.
Submit your best research today.
Read a selection of our high impact Communications:
Piezo-phototronics effect on nano/microwire solar cells
Yan Zhang, Ya Yang and Zhong Lin Wang
DOI: 10.1039/C2EE00057A
Living battery – biofuel cells operating in vivo in clams
Alon Szczupak, Jan Halámek, Lenka Halámková, Vera Bocharova, Lital Alfonta and Evgeny Katz
DOI: 10.1039/C2EE21626D
Solar energy generation in three dimensions
Marco Bernardi, Nicola Ferralis, Jin H. Wan, Rachelle Villalon and Jeffrey C. Grossman
DOI: 10.1039/C2EE21170J
Quartz (SiO2): a new energy storage anode material for Li-ion batteries
Won-Seok Chang, Cheol-Min Park, Jae-Hun Kim, Young-Ugk Kim, Goojin Jeong and Hun-Joon Sohn
DOI: 10.1039/C2EE00003B
Rechargeable Li–O2 batteries with covalently coupled MnCo2O4–graphene hybrid as oxygen cathode catalyst
Hailiang Wang, Yuan Yang, Yongye Liang, Guangyuan Zheng, Yanguang Li, Yi Cui and Hongjie Dai
DOI: 10.1039/C2EE21746E
Si microwire-array solar cells
Morgan C. Putnam, Shannon W. Boettcher, Michael D. Kelzenberg, Daniel B. Turner-Evans, Joshua M. Spurgeon, Emily L. Warren, Ryan M. Briggs, Nathan S. Lewis and Harry A. Atwater
DOI: 10.1039/C0EE00014K
How copper catalyzes the electroreduction of carbon dioxide into hydrocarbon fuels
Andrew A. Peterson, Frank Abild-Pedersen, Felix Studt, Jan Rossmeisl and Jens K. Nørskov
DOI: 10.1039/C0EE00071J
To draw an air electrode of a Li–air battery by pencil
Yonggang Wang and Haoshen Zhou
DOI: 10.1039/C0EE00759E
An 8.2% efficient solution-processed CuInSe2 solar cell based on multiphase CuInSe2 nanoparticles
Sunho Jeong, Byung-Seok Lee, SeJin Ahn, KyungHoon Yoon, Yeong-Hui Seo, Youngmin Choi and Beyong-Hwan Ryu
DOI: 10.1039/C2EE21269B
Bimolecular proton-coupled electron transfer from tryptophan with water as the proton acceptor
Ming-Tian Zhang, Johan Nilsson and Leif Hammarström
DOI: 10.1039/C2EE03137J
Growth of ultrathin mesoporous Co3O4 nanosheet arrays on Ni foam for high-performance electrochemical capacitors
Xiong Wen (David) Lou
DOI: 10.1039/C2EE21745G
Influence of the interfacial charge-transfer resistance at the counter electrode in dye-sensitized solar cells employing cobalt redox shuttles
Hoi Nok Tsao, Julian Burschka, Chenyi Yi, Florian Kessler, Mohammad K. Nazeeruddin and Michael Grätzel
DOI: 10.1039/C1EE02389F
Nickel oxide functionalized silicon for efficient photo-oxidation of water
Ke Sun, Namseok Park, Zhelin Sun, Jigang Zhou, Jian Wang, Xiaolu Pang, Shaohua Shen, Sun Young Noh, Yi Jing, Sungho Jin, Paul Yu and Deli Wang
DOI: 10.1039/C2EE21708B
Room-temperature sodium-ion batteries: Improving the rate capability of carbon anode materials by templating strategies
Sebastian Wenzel, Takeshi Hara, Jürgen Janek and Philipp Adelhelm
DOI: 10.1039/C1EE01744F
Borohydride hydrazinates: high hydrogen content materials for hydrogen storage
Teng He, Hui Wu, Guotao Wu, Junhu Wang, Wei Zhou, Zhitao Xiong, Juner Chen, Tao Zhang and Ping Chen
DOI: 10.1039/C2EE03205H
Oligothiophene dye-sensitized solar cells
Jingyuan Liu, Renzhi Li, Xiaoying Si, Difei Zhou, Yushuai Shi, Yinghui Wang, Xiaoyan Jing and Peng Wang
DOI: 10.1039/C0EE00304B
Surface modification of metal oxide nanocrystals for improved supercapacitors
Mauro Epifani, Teresa Chávez-Capilla, Teresa Andreu, Jordi Arbiol, Jesús Palma, Joan R. Morante and Raül Díaz
DOI: 10.1039/C2EE00013J
A fuel cell that runs on water and air
Andreas M. Dreizler and Emil Roduner
DOI: 10.1039/C001381A
A high mobility conjugated polymer based on dithienothiophene and diketopyrrolopyrrole for organic photovoltaics
Jae Woong Jung, Feng Liu, Thomas P. Russell and Won Ho Jo
DOI: 10.1039/C2EE21149A
Graphene–sponges as high-performance low-cost anodes for microbial fuel cells
Xing Xie, Guihua Yu, Nian Liu, Zhenan Bao, Craig S. Criddle and Yi Cui
DOI: 10.1039/C2EE03583A
An aqueous rechargeable lithium battery of excellent rate capability based on a nanocomposite of MoO3 coated with PPy and LiMn2O4
Wei Tang, Lili Liu, Yusong Zhu, Hong Sun, Yuping Wu and Kai Zhu
DOI: 10.1039/C2EE21294C
DNA-directed growth of FePO4 nanostructures on carbon nanotubes to achieve nearly 100% theoretical capacity for lithium-ion batteries
Chun Xian Guo, Yi Qiang Shen, Zhi Li Dong, Xiao Dong Chen, Xiong Wen (David) Lou and Chang Ming Li
DOI: 10.1039/C2EE21320F
Browse our website to find many more excellent Communications.