The latest issue of Energy & Environmental Science is now online. You can read the full issue here.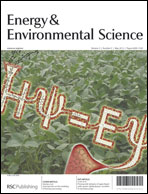 The outside front cover features a Perspective on the modeling of biomass processing by Na Guo, Stavros Caratzoulas, Douglas J. Doren, Stanley I. Sandler and Dionisios G. Vlachos.
Issue 5 contains a mix of Analysis, reviews and original research, here are just a few to highlight:
Analysis
The carbon abatement potential of high penetration intermittent renewables
Elaine K. Hart and Mark Z. Jacobson
Energy Environ. Sci., 2012, 5, 6592-6601
DOI: 10.1039/C2EE03490E
Review
Carbon capture with ionic liquids: overview and progress
Xiangping Zhang, Xiaochun Zhang, Haifeng Dong, Zhijun Zhao, Suojiang Zhang and Ying Huang
Energy Environ. Sci., 2012, 5, 6668-6681
DOI: 10.1039/C2EE21152A
Perspective
Mechanical properties of clathrate hydrates: status and perspectives
Fulong Ning, Yibing Yu, Signe Kjelstrup, Thijs J. H. Vlugt and Kirill Glavatskiy
Energy Environ. Sci., 2012, 5, 6779-6795
DOI: 10.1039/C2EE03435B
Fancy submitting an article to EES? Then submit to us today!