The first Sun New Energy Conference (SuNEC)  took place in Santa
Flavia, Sicily, 5-7 July 2011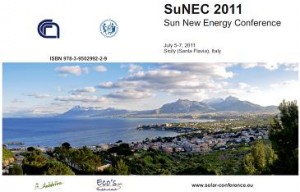 . Jointly organized by Palermo's University and CNR, with Professor Mario Pagliaro at the helm, the meeting covered some of the latest developments in the solar energy science and technology, with eminent speakers including Bernard Kippelen, Vincenzo Balzani, Claudia Bettiol and Ralph Nuzzo.
Energy & Environmental Science (EES) was the official publication of the conference. With an Impact Factor of 9.45 and ranked #1 in its field, EES was the ideal journal partner for the conference.
Conference highlights:
Ralph Nuzzo, of the University of Illinois at Urbana Champaign, gave a memorable talk on new printing-based approaches to high performance, low cost photovoltaic energy conversion systems.
Read Professor Nuzzo's EES Communication on monocrystalline silicon solar modules:
Compact monocrystalline silicon solar modules with high voltage outputs and mechanically flexible designs
Alfred J. Baca, Ki Jun Yu, Jianliang Xiao, Shuodao Wang, Jongseung Yoon, Jae Ha Ryu, Darren Stevenson, Ralph G. Nuzzo, Angus A. Rockett, Yonggang Huang and John A. Rogers
Energy Environ. Sci., 2010, 3, 208-211
DOI: 10.1039/B920862C
Vincenzo Balzani, now emeritus professor at the University of Bologna, explained the scope of the energy challenge requiring phase-out of fossil fuels with their severe damage to climate, environment, and human health. He said that a very important achievement will be  the production of powerful, clean fuel hydrogen directly from water and sunlight.
Professor Balzani's review in EES discusses the shift he foresees to electricity-based energy. Read it now:
Towards an electricity-powered world

Nicola Armaroli and Vincenzo Balzani
Energy Environ. Sci., 2011, 4, 3193-3222
DOI: 10.1039/C1EE01249E
Bernard Kippelen, head of the Center for Organic Photonics and Electronics at the Georgia Institute of Technology,showed why organic photovoltaics will be one of the key clean energy technologies in the 21st century with ten percent efficient plastic solar cells almost a reality. Plastic solar cells instead will become ubiquitous he suggested and their are great opportunities in this field in future.
Professor Kippelen has recently published some of his exciting research in EES. Read his paper:
Roles of thermally-induced vertical phase segregation and crystallization on the photovoltaic performance of bulk heterojunction inverted polymer solar cells
Hyeunseok Cheun, John D. Berrigan, Yinhua Zhou, Mathieu Fenoll, Jaewon Shim, Canek Fuentes-Hernandez, Kenneth H. Sandhage and Bernard Kippelen
Energy Environ. Sci., 2011, 4, 3456-3460
DOI: 10.1039/C1EE01316E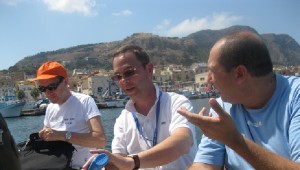 Delegates also enjoyed the sights of the Castle of Solanto, the Formica rocks and Aspra – part of Sicily's northern coast featuring a multitude of historical remnants and natural marvels. The conference banquet dinner features Sicilian cuisine and time-honoured recipes accompanied by local wine.
SuNEC 2012 will be held in Sicily from 4–6 September 2012. Early bird registration is now open.