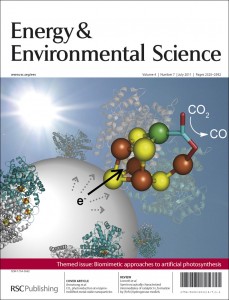 We have already published some excellent solar energy research this year. For a limited period we would like to share these exciting new articles with you for free!
Read the collection of 22 high-impact reviews, communications and papers on solar research from the best scientists in the field on our website.
With an Impact Factor of 9.45 and ranked #1 in its field, Energy & Environmental Science is the ideal place to publish your research.
We invite you to submit your best solar energy research to EES.
The articles below are just a taster of the exciting solar energy research published in EES in 2011:
Organic solar cells: A new look at traditional models
Jonathan D. Servaites, Mark A. Ratner and Tobin J. Marks
DOI: 10.1039/C1EE01663F
Stretchable, elastic materials and devices for solar energy conversion
Darren J. Lipomi and Zhenan Bao
DOI: 10.1039/C1EE01881G
Tandem polymer photovoltaic cells—current status, challenges and future outlook
Srinivas Sista, Ziruo Hong, Li-Min Chen and Yang Yang
DOI: 10.1039/C0EE00754D
***Due to popular demand, the submission deadline for ChemComm's Artificial Photosynthesis web theme has been extended until 30th September 2011. Click here for more details***