Energy & Environmental Science is delighted to publish a collection of high-impact articles covering the most important areas of modern biofuels research, from leading experts in the field.
Read the Biofuels collection for free
The collection features a Perspective article by George Huber, who is a member of the Energy & Environmental Science Editorial Board, alongside other leading biofuel researchers Chris Somerville, José Goldemberg and James Dumesic, who sit on the Advisory Board.
Also included are a selection of Opinion and Analysis articles from the Biofuels themed issue, Guest Edited by Rafael Luque and José Goldemberg.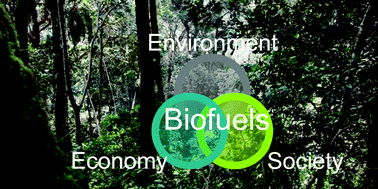 Read these insightful feature articles for free:
Catalytic routes for the conversion of biomass into liquid hydrocarbon transportation fuels
Juan Carlos Serrano-Ruiz and James A. Dumesic
Energy Environ. Sci., 2011, Advance Article DOI: 10.1039/C0EE00436G
Switchgrass as an energy crop for biofuel production: A review of its ligno-cellulosic chemical properties
Kasi David and Arthur J. Ragauskas
Energy Environ. Sci., 2010, 3, 1182-1190
Algal biofuels: the eternal promise?
Rafael Luque
Energy Environ. Sci., 2010, 3, 254-257
The critical role of heterogeneous catalysis in lignocellulosic biomass conversion
Yu-Chuan Lin and George W. Huber
Energy Environ. Sci., 2009, 2, 68-80
Bioenergy: in search of clarity
Lee R. Lynd
Energy Environ. Sci., 2010, 3, 1150-1152