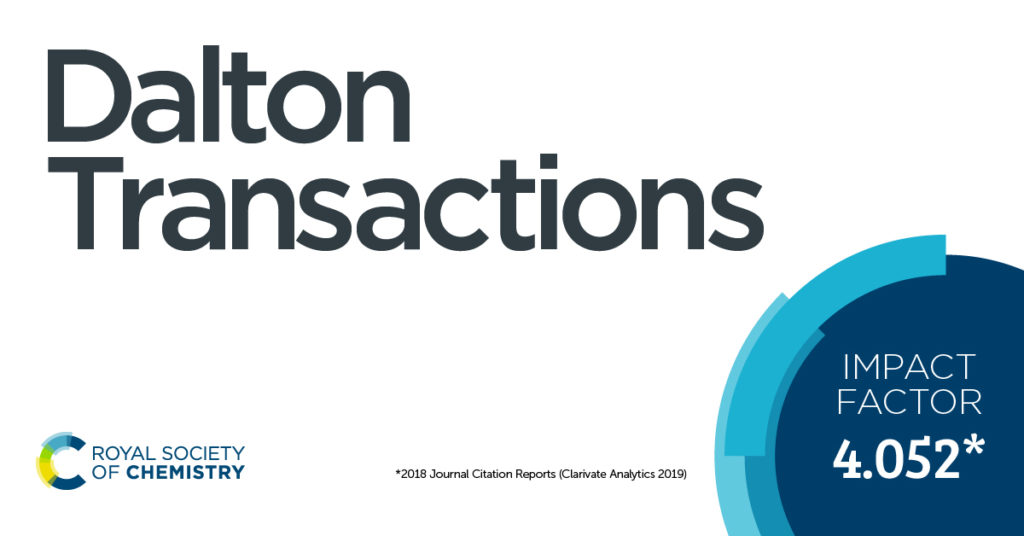 We have just updated our reviewer recommend 'HOT articles' & our cummulative 2019 Frontier & Perspective collections.
We update our HOT articles collection quarterly and make the selected articles free to access for 6 weeks! This collection represents the top 10% of research published in Dalton Transactions between April – June 2019.
Make the most of the free to access period by browsing the collection today!
Why not start here:
Rhodium nanoparticles stabilized by ferrocenyl-phosphine ligands: synthesis and catalytic styrene hydrogenation
M. Ibrahim, M. M. Wei, E. Deydier, E. Manoury, R. Poli, P. Lecante and K. Philippot
Dalton Trans., 2019, 48, 6777-6786
DOI: 10.1039/C9DT01006H, Paper
Studies of hysteresis and quantum tunnelling of the magnetisation in dysprosium(III) single molecule magnets
Fabrizio Ortu, Daniel Reta, You-Song Ding, Conrad A. P. Goodwin, Matthew P. Gregson, Eric J. L. McInnes, Richard E. P. Winpenny, Yan-Zhen Zheng, Stephen T. Liddle, David P. Mills and Nicholas F. Chilton
Dalton Trans., 2019, 48, 8541-8545
DOI: 10.1039/C9DT01655D, Communication
Our 2019 Frontier & Perspective collection pulls together all of the reviews published in Dalton Transactions throughout the year. Remember to check back to read our latest articles!
These two articles are already getting citations:
Emerging platinum(IV) prodrugs to combat cisplatin resistance: from isolated cancer cells to tumor microenvironment
Zhigang Wang, Zhiqin Dengac and Guangyu Zhu
Dalton Trans., 2019, 48, 2536-2544
DOI: 10.1039/C8DT03923B, Perspective
Kinetics and mechanisms of catalytic water oxidation
Shunichi Fukuzumi, Yong-Min Lee and Wonwoo Nam
Dalton Trans., 2019, 48, 779-798
DOI: 10.1039/C8DT04341H, Perspective
Submit your work to Dalton Transactions– Check our website for handy tips and guidelines or find out more about the benefits of publishing with the Royal Society of Chemistry.