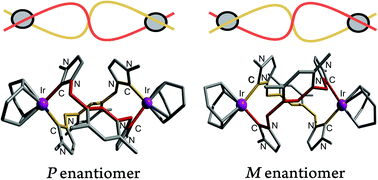 Braunstein and co-workers have formed a dinuclear Ir(I) complex with a bis-NHC ligand in situ from
1,1′-((4,6-dimethyl-1,3-phenylene)bis(methylene))bis(3-methyl-1H-imidazol-3-ium) in
the presence of Cs2CO3 and [Ir(µ-Cl)(cod)]2. Its solid-state structure, determined by X-ray
diffraction, shows a figure-of-eight loop with both the P and M enantiomers being present. Solution NMR studies were also performed to examine the enantiodiscrimination between them.
Read more for FREE until the 29th November 2011 at:
Chiral anion-based NMR enantiodiscrimination of a dinuclear, cationic Ir(I) NHC complex with a figure-of-eight loop structure
Xianghao Liu, Jérôme Lacour and Pierre Braunstein
Dalton Trans., 2012, Advance Article
DOI: 10.1039/C1DT11604E
Also read about the formation of unprecedented eight-membered chelates at:
Contrasting bonding modes of a tridentate bis(oxazoline)phosphine ligand in cobalt and iron vs. palladium complexes: unprecedented N,N-coordination for a N,P,N ligand
Anthony Kermagoret and Pierre Braunstein
Dalton Trans., 2008, 585-587
DOI: 10.1039/B717021C