As part of the celebrations for the International Year of the Periodic Table , Dalton Tansactions reccently published a themed issue looking at the central role of the d-block materials.
Guest Edited by Catherine E. Housecroft, Christine M. Thomas and Mi Hee Lim, this collection of reports and perspectives highlights the important role that d-block metals play in sustainable energy, catalysis, diagnostics and medicine, and chemical education.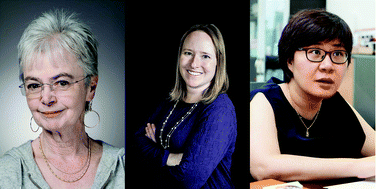 You can find a selection of the articles below and check out the full collection online here:
Evolution and understanding of the d-block elements in the periodic table
Edwin C. Constable
Dalton Trans., 2019, 48, 9408-9421
DOI: 10.1039/C9DT00765B, Perspective
A look at periodic trends in d-block molecular electrocatalysts for CO2 reduction
Changcheng Jiang, Asa W. Nichols and Charles W. Machan
Dalton Trans., 2019, 48, 9454-9468
DOI: 10.1039/C9DT00491B, Perspective
Structure and reactivity of the first-row d-block metal-superoxo complexes
Shunichi Fukuzumi, Yong-Min Lee and Wonwoo Nam
Dalton Trans., 2019, 48, 9469-9489
DOI: 10.1039/C9DT01402K, Perspective
A d10 Ag(I) amine–borane σ-complex and comparison with a d8 Rh(I) analogue: structures on the η1 to η2:η2 continuum
Alice Johnson, Antonio J. Martínez-Martínez, Stuart A. Macgregor and Andrew S. Weller
Dalton Trans., 2019, 48, 9776-9781
DOI: 10.1039/C9DT00971J, Paper
Cobalt-based molecular electrocatalysis of nitrile reduction: evolving sustainability beyond hydrogen
Simon N. Child, Radoslav Raychev, Nathan Moss, Benjamin Howchen, Peter N. Horton, Christopher C. Prior, Vasily S. Oganesyan and John Fielden
Dalton Trans., 2019, 48, 9576-9580
DOI: 10.1039/C9DT00773C, Communication
Coordination design of cadmium ions at the 4-fold axis channel of the apo-ferritin cage
Satoshi Abe, Nozomi Ito, Basudev Maity, Chenlin Lu, Diannan Lu and Takafumi Ueno
Dalton Trans., 2019, 48, 9759-9764
DOI: 10.1039/C9DT00609E, Paper


Submit your work to Dalton Transactions– Check our website for handy tips and guidelines or find out more about the benefits of publishing with the Royal Society of Chemistry.