Prof. Gill Reid and Dalton Transactions
This year we are celebrating the 50th volume of Dalton Transactions by taking a look at some of our authors who have published over 50 articles in the journal. This week, we learn what Dalton Transactions means to Professor Gillian Reid, as our final Golden Author in our series.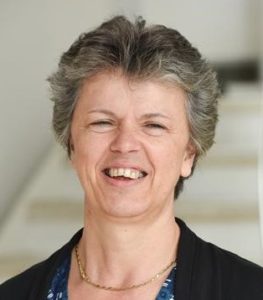 Our author at a glance:
Prof. Gill Reid is based at the University of Southampton in the UK. Her research focuses on main group and transition metal coordination chemistry, including macrocyclic chemistry, precursor synthesis for CVD and electrodeposition of semiconductor thin films and nanostructures, as well as metal fluoride coordination chemistry. Dalton means to Gill: "I believe that Dalton Transactions provides a great platform for disseminating research across the whole of inorganic chemistry and it is a great source of ideas and inspiration!"
Please can you summarise your most recent research published in Dalton Transactions?
In 2021, we published our most recent work describing a molecular organometallic complex, [nBu3Sn(TenBu)], that is a highly effective single source precursor for the growth of high quality, stoichiometric tin telluride (SnTe) thin films by chemical vapour deposition at relatively low temperatures.  The tin monochalcogenide semiconductors are interesting thermoelectric materials for the conversion of thermal energy into electrical potential, and therefore for energy harvesting. The article describes the temperature-dependent thermoelectric properties of the p-type SnTe films, which compare favourably with bulk SnTe. We were also able to demonstrate that this precursor allows area selective growth of SnTe onto lithographically patterned substrates.
How do you intend to expand upon your research in the future?
We are keen to expand our work in two ways: firstly, to exploit the area selective deposition to develop an efficient process for the fabrication of micro-thermoelectric generators for 'internet of things' applications and wireless sensing; and secondly, to optimise the volatility and broaden the precursor range to allow access to other key metal chalcogenide thermoelectric thin films.
What would you say are the biggest barriers which need to be overcome to expand your research?
The key barriers in this area of research are to increase the thermoelectric efficiency of the materials and devices and to ensure the sustainability of the materials, such that they become viable for energy harvesting applications. By developing a compatible suite of molecular precursors we have the opportunity to optimise the thermoelectric properties of the films and to substitute scarce elements like tellurium for the more abundant lighter chalcogens (sulfur or selenium).
You've published over 50 articles in Dalton Transactions: which of these works do you find to be most interesting/significant for our broad inorganic audience?
I will take the liberty of highlighting 2 articles addressing different topics that I personally think are very interesting and also remain very relevant to current research in my group. I think they provide two distinct illustrations of how inorganic chemistry allows the creation of new molecular complexes with tailored properties that can have important applications. The first article describes precursors for technologically important transition metal dichalcogenide (TMDC) thin films via chemical vapour deposition; see "Thio- and seleno-ether complexes with Group 4 tetrahalides and tin tetrachloride: preparation and use in CVD for metal chalcogenide films".
The second article describes a new class of inorganic fluoride binders, in particular for incorporating radiofluorine (18F–) under mild conditions in water based solvents- see "Exploring transition metal fluoride chelates – synthesis, properties and prospects towards potential PET probes". These have potential applications in medical imaging via positron emission tomography (PET) imaging, and the subtle differences between the different metal ions in the periodic table offer really exciting prospects for the development of new and effective PET imaging agents.
Outside of your own research, please suggest a Dalton Transactions article which you think has made a significant contribution to its field?
It's really difficult to specify just one article as the chemistry in Dalton Transactions covers so many different topics and applications! However, the 2019 article from Gabbai and co-workers on "Phosphonium–stibonium and bis-stibonium cations as pnictogen-bonding catalysts for the transfer hydrogenation of quinolines" is significant as it illustrates some very nice new chemistry based on previously understudied organoantimony compounds, revealing the importance of the stibonium functions in catalysis.
What advice do you have for young researchers new to your field?
The area of inorganic chemistry is incredibly broad, and I think that is really exciting, offering great opportunities to develop new molecules, materials and processes that are relevant to many different fields of science and technology. I encourage young researchers to seek opportunities to use their specialist skills in inorganic chemistry and to collaborate with researchers in other fields to contribute to the next generation of scientific innovations.
What does Dalton Transactions mean to you?
I consider Dalton Transactions to be one of the most important international journals for keeping track of new, high quality research in the broad field of inorganic chemistry. It is a great source of ideas and inspiration!
Why do you choose to publish in Dalton Transactions?
As our professional body for chemistry, as well as an internationally leading publisher and not-for-profit charitable organisation, I align very closely with the ambitions of the RSC to support chemists and advocate for the chemical sciences internationally. Therefore, publishing in RSC journals comes naturally!
I also believe that Dalton Transactions provides a great platform for disseminating research across the whole of inorganic chemistry as well as providing excellent author support.
What is your experience of publishing with Dalton Transactions?
I have always found that the Editors and staff provide great support to authors and reviewers, aiming to ensure a fair peer-review process and speedy publication of articles.
You can check out Gill's recent Dalton Transactions article on [nBu3Sn(TenBu)] as a precursor for the growth of tin telluride (SnTe) thin films below,
---
Low temperature CVD of thermoelectric SnTe thin films from the single source precursor, [nBu3Sn(TenBu)]
Fred Robinson, Daniel W. Newbrook, Peter Curran, C. H. (Kees) de Groot, Duncan Hardie, Andrew L. Hector, Ruomeng Huang and Gillian Reid*
Dalton Trans., 2021, 50, 998-1006
---
Check out the full collection of recent research published in Dalton Transactions by all of our featured Golden Authors in our Celebrating our Golden Authors collection.