We are celebrating the 50th volume of Dalton Transactions this year!
As part of our 50th anniversary celebrations, we want to highlight 50 of our most highly cited articles published over the last 50 years. These highly cited articles represent research that has been well-received by the community over the years, including seminal work in the field of inorganic chemistry and some notable review articles in key fields that have emerged over the last half-century.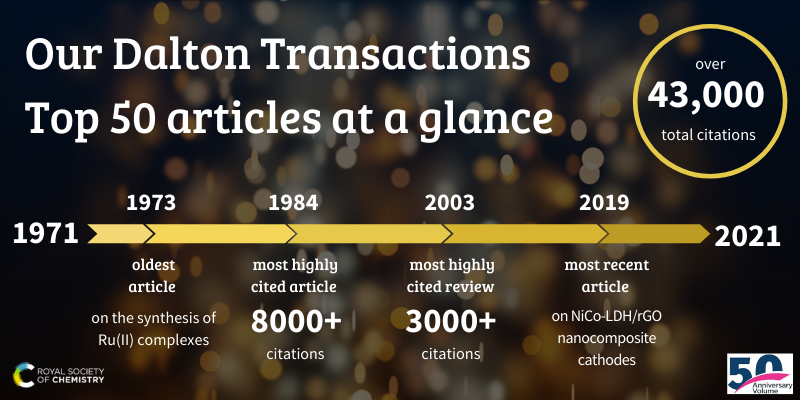 Our top 50 list reflects the full scope of Dalton Transactions, with many articles containing useful pieces of information used for reference by inorganic chemists. One example includes our most cited article of all time by Addison and co-workers (with over 8000 citations*), which defines the structural parameter τ5 for the first time as an 'index of trigonality' for five-coordinate metal complexes. Another example includes one of our oldest articles from 1973, describing the preparation of [RuCl2(DMSO)4] as a useful ruthenium(II) precursor.
Our top 50 list includes articles from as early as 1973 to as recent as 2019, and our most cited articles are typically from the 1980s and the 2000s. The 50 articles in our list have garnered a total of over 43,000 citations.
You can browse the selection of our top 50 most highly cited articles categorised by subject area below, or see the full list on our collection webpage.
---
| | | |
| --- | --- | --- |
| Mechanistic studies & Theoretical Chemistry | Year | Citations* |
| SUPERQUAD: An improved general program for computation of formation constants from potentiometric data | 1985 | 1565 |
| The accuracy of DFT-optimized geometries of functional transition metal compounds: A validation study of catalysts for olefin metathesis and other reactions in the homogeneous phase | 2012 | 308 |
| The Mayer bond order as a tool in inorganic chemistry | 2001 | 303 |
| The mechanism of the modified Ullmann reaction | 2010 | 281 |
| Kinetics and mechanism of ortho-palladation of ring-substituted NN-dimethylbenzylamines | 1985 | 213 |
| Mechanism of reductive elimination of ethane from some halogenotrimethylbis(tertiary phosphine)platinum(IV) complexes | 1974 | 175 |
| Synthesis and properties of the divalent 1,2-bis(dimethylphosphino)ethane (dmpe) complexes MCl2(dmpe)2 and MMe2(dmpe)2 (M = Ti, V, Cr, Mn, or Fe). X-Ray crystal structures of MCl2(dmpe)2 (M = Ti, V, or Cr), MnBr2(dmpe)2, TiMe1.3Cl0.7(dmpe)2, and CrMe2(dmpe)2 | 1985 | 169 |
*citation data according to Scopus, accessed on 24 September 2021