We are pleased to introduce Professor Li-Min Zheng as the latest member of the Dalton Transactions Editorial Board.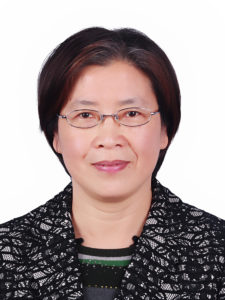 Li-Min joins us as an Associate Editor based at Nanjing University where she received her Ph.D. degree in Chemistry in 1992. She then joined Nanjing University as a faculty member, and became a lecturer (1992-1997), associate professor (1997-2002) and professor (2002-present). She was a postdoctoral researcher at the University of Zurich in Switzerland (1994-1996) and a visiting scholar at the University of Houston in the United States (1999-2000), ETH Zurich in Switzerland (2007) and Kyoto University in Japan (2012). She has published over 230 research papers.
Her current research interest focuses on inorganic-organic hybrid materials, especially the crystalline and low-dimensional materials based on metal phosphonates with applications including magnetic, optical and proton conductive properties.
Browse a selection of work published by Li-Min below:
Lanthanide anthracene complexes: slow magnetic relaxation and luminescence in DyIII, ErIII and YbIII based materials
Qian Zou, Xin-Da Huang, Jing-Cui Liu, Song-Song Baoa and Li-Min Zheng
Dalton Trans., 2019, 48, 2735-2740
DOI: 10.1039/C9DT00073A, Paper
Synthesis and characterisation of new tripodal lanthanide complexes and investigation of their optical and magnetic properties
Alexander R. Craze, Xin-Da Huang, Isaac Etchells, Li-Min Zheng, Mohan M. Bhadbhade, Christopher E. Marjo, Jack K. Clegg, Evan G. Moore, Maxim Avdeev, Leonard F. Lindoy and Feng Li
Dalton Trans., 2017, 46, 12177-12184
DOI: 10.1039/C7DT02556D, Paper
Temperature controlled formation of polar copper phosphonates showing large dielectric anisotropy and a dehydration-induced switch from ferromagnetic to antiferromagnetic interactions
Peng-Fei Wang, Song-Song Bao, Xin-Da Huang, T. Akutagawab and Li-Min Zheng
Chem. Commun., 2018, 54, 6276-6279
DOI: 10.1039/C8CC02819B, Communication
Reversible ON–OFF switching of single-molecule-magnetism associated with single-crystal-to-single-crystal structural transformation of a decanuclear dysprosium phosphonate
Haiquan Tian, Jing-Bu Su, Song-Song Bao, Mohamedally Kurmoo, Xin-Da Huang, Yi-Quan Zhang and Li-Min Zheng
Chem. Sci., 2018, 9, 6424-6433
DOI: 10.1039/C8SC01228H, Edge Article
Submit your research or reviews to Li-Min now, she will be delighted to receive them! – see our author guidelines for information on our article types or find out more about the advantages of publishing in a Royal Society of Chemistry journal.