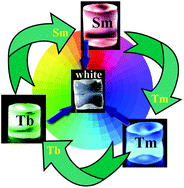 Research interest in hydrid inorganic–organic materials is being driven by their application light sources and optical displays. Lanthaniod elements are attractive as light emitters because of the purity of colours that can be produced and also by combining different lanthanoid elements, they can emit white light. However in lanthanoid elements, f–f transitions need to be activated by a bound ligand.
Mark I. Ogden, Massimiliano Massi and their research teams  have found a way of solving the issue of phase segragation in lanthanoid based metallo polymers. When phase separation occurs, the metal complex separates from the organic portion which can affect the emission properties. To overcome this, they copolymerized methyl methacrycalate with a calixarene (basket shaped cyclic oligomer) and then introduced a lanthanoid ion to produce luminescent hybrid materials.
The materials can be changed by loading different combinations of lanthanoid ions which produces different colour emissions – as well as emitting white light. 
To find out more, read the full Dalton Transactions article:
Recyclable calix[4]arene–lanthanoid luminescent hybrid materials with color-tuning and color-switching properties
Brendan W. Ennis, Sara Muzzioli, Brodie L. Reid, Daniel M. D'Alessio, Stefano Stagni, David H. Brown, Mark I. Ogden and Massimiliano Massi
Dalton Transactions, DOI: 10.1039/C3DT33059A