The current issue of Dalton Transactions is a themed issue on boranes and borohydrides, of which one of the cover articles  by Chunfang Jiang and Douglas W. Stephan explores phosphinimine-boranes in frustrated Lewis pair chemistry. Frustrated Lewis pairs are entities that consist of a Lewis acid and a Lewis base which, because of sterics, do not form an adduct. These systems are very reactive and are able to activate H2, CO2, and olefins amongst others without the need for a transition metal catalyst.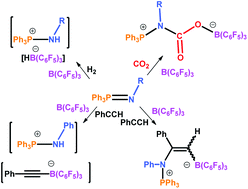 In this article, a series of phosphinimines (species contanining a phosphorous-nitrogen double bond) were combined with B(C6F5)3 and in one case a Lewis acid-base adduct was formed. The reactivity of the adduct was compared to the other cases where frustrated Lewis pairs were generated. Remarkably, the researchers discovered that both the adduct and the frustrated Lewis pairs were able to activate H2, CO2 and phenylacetylene.
This work paves the way for discovering even more acid base combinations that could be used in frustrated Lewis pair systems for catalysis without the need for transition metals.
To find out more, read the full Dalton Transactions article:
Phosphinimine–borane combinations in frustrated Lewis pair chemistry
Chunfang Jiang and Douglas W. Stephan
Dalton Trans., 2013, 42, 630-637