This year's Dalton Discussion meeting was based at the University of Sheffield and focused on the topic of Inorganic Photophysics and Photochemistry – Fundamentals and Applications.
The 3 day programme was rich with contributions from Keynote speakers, Richard Eisenberg, Majed Chergui, Peter Ford and Luisa De Cola; Invited speakers, Craig Hill, David Parker, and Chantal Daniel; amongst numerous other excellent presenations from researchers across the international community.
| | | |
| --- | --- | --- |
| | | |
|  Majed Chergui and Andrea Barbieri |  Richard Eisenberg |  Craig Hill |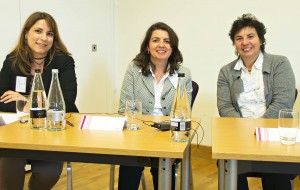 The Dalton Discussion format differs slightly from other conferences in that speakers are alloted short 5-10 minute slots to deliver a snappy overview of their latest research based on the contents of their article which will shortly be published in a themed issue of Dalton Transactions.
For every 3 presentations, there follows an hour long discussion amongst the delegates – an excellent opportunity for researchers to get down to the gritty detail of the experiments, understand any tricky concepts, and offer alternative ideas to take the research forward. It was great to see even the graduate students asking questions – something that is sadly, rarely seen at conferences.
The poster sessions were also of great success. Many congratulations to Sven Hansen, Elizabeth Bagaley and Lucy Jones who won the Dalton Transactions, ChemComm and RSC Books poster prizes, respectively. 
| | | |
| --- | --- | --- |
| | | |
| Otto Horvath in conversation with Peter Burks, student of Peter Ford at UCSB | From left to right: Lucy Jones (University of Manchester), Sven Hansen (Rostock University), Elizabeth Baggaley (University of Sheffield). | No conference is complete without networking at the welcome reception |
I am already very much looking forward to what next year's Dalton Discussion meeting has to offer – which will be adopting a new and improved format for article submission. Watch this space…
Many thanks go to Mike Ward for providing photographs and also for organising such an excellent meeting! 
Also of interest…
See here for the RSC's report on Solar Fuels and Artificial Photosynthesis: Science and innovation to change our future energy options