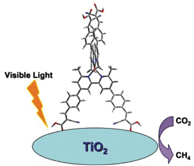 Photochemical reduction of  greenhouse gas, carbon dioxide into higher energy content fuels is attractive because it utilises a renewable energy source – the sun. Most catalysts that are already used for this process  (TiO
2
and metallic clusters based on Cu, Pt and Rh) need ultraviolet light for excitation and have a low conversion efficiency, prohibiting wide scale industrial application. 
There is need for a photocatalyst that is efficient, low cost and can be excited by visible light.
Zhi-Gang Zou and his team at Nanjing University have synthesised an air stable  copper (I) bipyridine complex which binds to TiO2. The Cu(I)complex/TiO2 hybrid system when irradiated with visible light can reduce  CO2 to CH4 with high efficiency and selectivity.
This is an exciting development — no other products were formed during photoreduction of carbon dioxide and copper is an inexpensive and abundant metal. The possiblilty for using copper complexes  in carbon dioxide reduction catalysis has now been opened up for further work…
To find out more (including how Zou and team also used the complex in a dye-sensitised solar cell), read the full Dalton Transactions article:
A Copper(I) Dye-Sensitized TiO2-Based System for Efficient Light Harvesting and Photoconversion of CO2 into Hydrocarbon Fuel
Yong-Jun Yuan, Z.T. Yu, Jiyuan Zhang and Zhigang Zou