Polynuclear complexes contain several metal atoms or ions in a single coordination species and therefore their electronic structures and magnetic properties can be quite complex. These properties give polynuclear complexes potential for applications in information storage devices and molecular magnets.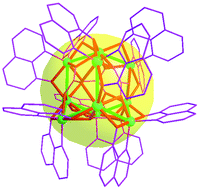 Ruren Xu, Jihong Yu and their  team at Jilin University, China have reported the synthesis of a novel cobalt(II) polynuclear complex. This new complex is a decanuclear cobalt (II) cluster with bridging Co32- anions  and 8-hydroxyquinoline ligands. Interestingly, the ten cobalts are arranged in an adamantane topology which is a chair-like conformation, The adamantane topology of the cobalt culster can be seen clearly in green in the left hand figure. To the researchers' knowledge, this is the first example of a metallic skeleton with an adamantane topology in a polynuclear complex. It was also found that an antiferromagentic interaction exists within the complex.
This novel complex is unlike any other cobalt polynuclear complex that has been reported before.

To find out more about the fascinating stucture of this decanuclear cobalt (II) cluster, read the full Dalton Transactions article:
A novel decanuclear Co(II) cluster with adamantane-like metallic skeleton supported by 8-hydroxyquinoline and in situ formed CO32− anions
Lei Wang, Yi Li, Yu Peng, Zhiqiang Liang, Jihong Yu and Ruren Xu