The well known Haber Bosch process converts nitrogen and hydrogen into ammonia under very harsh reaction conditions. Nitrogen fixation in biology however, takes place at ambient pressure and temperature. A long term goal of researchers has been to achieve nitrogen fixation under ambient conditions.
Whilst molybdenum- and tungsten-dinitrogen complexes containing phosphine ligands are able to reduce nitrogen to ammonia under ambient conditions (in the presence of an acid such as sulfuric acid), these complexes are unable to produce ammonia from molecular dihydrogen.
Yoshiaki Nishibayashi from the University of Tokyo has recently developed a dinitrogen-bridged dimolybdenum complex bearing tridentate PNP pincer ligand which is a diphosphine containing a nitrogen linker. The catalyst is able to produce 23 equivalents of ammonia under atmospheric pressure. A second molybdenum based catalyst, this time bearing ferrocenyl diphosphine ligands is able to produce 226 equivalents of silylamine in the presence of trimethylsilyl chloride and sodium under atmospheric pressure. A future study of the reaction mechanism of these new catalytic systems could provide more insight to guide the design of more effective catalyzed nitrogen fixation in the future.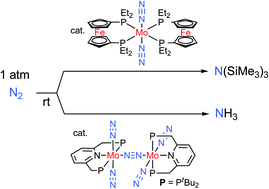 Nishibayashi has written a comprehensive article that discusses previous work on catalysts for dinitrogen fixation and also reports his recent work on two new nitrogen fixation systems catalyzed by molybdenum-dintrogen complexes. To find out more read the Dalton Transactions Perspective article.
Yoshiaki Nishibayashi
Dalton Trans., 2012, Advance Article
DOI: 10.1039/C2DT30105A