Phenanthroline-based complexes are increasingly finding use in heterogenous catalysis. One class of phenanthroline ligand is neocuproine – a dimethyl substituted derivative which Fabio Ragaini and his team have been interested in to mechanistically study the carbonylation of nitroarenes to carbamates.
When Ragaini et al. started working with the palladium neocuproine complexes, it appeared that minor variations in the synthetic procedure gave products with very different solubility properties, even though the elemental analysis data matched what was expected. In light of this, Ragaini and his team scoured the literature, upon which they discovered inconsistencies regarding the reported solubility of the [Pd(Neoc)X2] (X = Cl, Br, I) complexes.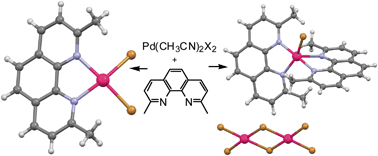 Bearing this in mind,  Ragaini et al. decided to further investigate the nature of these compounds. They discovered that for each compound in the series, two structural isomers exist: one isomer is neutral and the second is ionic. Formation of the ionic isomer occurs under a much wider range of experimental conditions than the neutral isomer. The ionic isomer must have been synthesised in previous reports even if formation of the neutral one was claimed, say the authors.
It has already been shown that the way palladium–phosphine complexes are synthesised can affect the nature of the final product, in particular its catalytic activity. Ragaini and colleagues' paper reiterates this for nitrogen-containing ligands and highlights the importance of correctly identifying a product's structure.
Read the Dalton Transactions article in full to find out more:
Unexpected isomerism in "[Pd(2,9-dimethylphenanthroline)X2]" (X = Cl, Br, I) complexes: a neutral and an ionic form exist
Martino Rimoldi, Fabio Ragaini, Emma Gallo, Francesco Ferretti, Piero Macchi and Nicola Casati