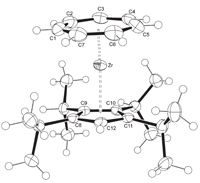 Ferrocene is a sandwich complex of two cyclopentadienyl (Cp) units bound to an Fe centre and is probably the most famous organometallic compound containing a Cp ligand. There are a huge variety of organometallic complexes with a range of metal centres and ligands and there is a great deal of interest in their structural, chemical and physical properties.
This Hot Article details the preparation of a series of [(η7-C7H7)Zr(η5-L)] (L = Cp and Ind) complexes and their structural characterisation. The authors use this information to develop a system to measure the steric bulk of Cp ligands………..so how big is a Cp?
To find out, you can download this article now, which is free to access for 4 weeks
How big is a Cp? Cycloheptatrienyl zirconium complexes with bulky cyclopentadienyl and indenyl ligands
Andreas Glöckner, Heiko Bauer, Miyuki Maekawa, Thomas Bannenberg, Constantin G. Daniliuc, Peter G. Jones, Yu Sun, Helmut Sitzmann, Matthias Tamm and Marc D. Walter
Dalton Trans., 2012, Advance Article
DOI: 10.1039/C2DT12132H
You can also keep up-to-date with the latest news in Dalton Transactions by following us on twitter or signing up to our e-alert service.