We are delighted to announce that the Physical Chemistry Chemical Physics (PCCP) themed collection Quantum Theory: The Challenge of Transition Metal Complexes is now online and free to access until May 2021.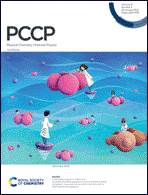 This collection aims at promoting the power of quantum theory at deciphering electronic structure, bonding, nuclear relaxation, (photo-) chemical reactivity, catalytic and enzymatic activities of transition metal complexes.
By exploring the intimacy of matter, particularly complex in coordination chemistry, quantum theory does not only provide accurate structural understanding but also in-depth knowledge of the processes that control primary functions, either at the molecular scale or in specific environments.
Guest Edited by Professor Chantal Daniel, Professor Leticia González and Professor Frank Neese, this collection contributes to stimulating discussions in the quest to find fundamental answers at the frontier between hard and life sciences involving transition metal complexes.
Read the full issue online
It includes:
Editorial
Quantum Theory: The Challenge of Transition Metal Complexes
Chantal Daniel, Leticia González and Frank Neese
Phys. Chem. Chem. Phys., 2021, 23, 2533-2534. DOI: 10.1039/D0CP90278K
Perspective
Coupled transport of electrons and protons in a bacterial cytochrome c oxidase—DFT calculated properties compared to structures and spectroscopies
Louis Noodleman, Wen-Ge Han Du, Duncan McRee, Ying Chen, Teffanie Goh and Andreas W. Götz
Phys. Chem. Chem. Phys., 2020, 22, 26652-26668. DOI: 10.1039/D0CP04848H
Paper (Front Cover)
Accurate and rapid prediction of pKa of transition metal complexes: semiempirical quantum chemistry with a data-augmented approach
Vivek Sinha, Jochem J. Laan and Evgeny A. Pidko
Phys. Chem. Chem. Phys., 2021, 23, 2557-2567. DOI: 10.1039/D0CP05281G
Paper
Theoretical study on conformational energies of transition metal complexes
Markus Bursch, Andreas Hansen, Philipp Pracht, Julia T. Kohn and Stefan Grimme
Phys. Chem. Chem. Phys., 2021, 23, 287-299. DOI: 10.1039/D0CP04696E
Paper
The effect of N-heterocyclic carbene units on the absorption spectra of Fe(II) complexes: a challenge for theory
Olga S. Bokareva, Omar Baig, Mohammed J. Al-Marri, Oliver Kühn and Leticia González
Phys. Chem. Chem. Phys., 2020, 23, 27605-27616. DOI: 10.1039/D0CP04781C
Paper
QM/MM MD simulations reveal an asynchronous PCET mechanism for nitrite reduction by copper nitrite reductase
Ronny Cheng, Chun Wu, Zexing Cao and Binju Wang
Phys. Chem. Chem. Phys., 2020, 22, 20922-20928. DOI: 10.1039/D0CP03053H
Paper
Optical absorption properties of metal–organic frameworks: solid state versus molecular perspective
Maria Fumanal, Clémence Corminboeuf, Berend Smit and Ivano Tavernelli
Phys. Chem. Chem. Phys., 2020, 22, 19512-19521. DOI: 10.1039/D0CP03899G