We are delighted to announce that the Physical Chemistry Chemical Physics (PCCP) Emerging Investigators 2021 themed collection is now online and free to access until the end of September 2022.
The collection brings together excellent research carried out around the world by early career scientists in physical chemistry, chemical physics and biophysical chemistry. As outstanding researchers in the early stages of their independent careers, each contributor was nominated for the PCCP Emerging Investigator Lectureship and invited to contribute to this themed collection by the Editorial Board.
We congratulate those whose work is featured and hope you enjoy reading their contributions.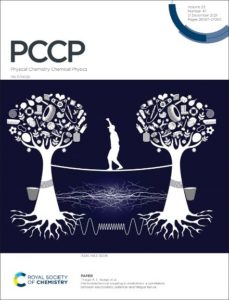 Read the full collection online for FREE
It includes:
Profile
Physical Chemistry Chemical Physics profiles: contributors to the Emerging Investigators 2021 issue
Phys. Chem. Chem. Phys., 2022, 24, 14113-14118. DOI: 10.1039/D2CP90064E
Paper
cis → trans photoisomerisation of azobenzene: a fresh theoretical look
Isabella C. D. Merritt, Denis Jacquemin and Morgane Vacher
Phys. Chem. Chem. Phys., 2021, 23, 19155-19165. DOI: 10.1039/D1CP01873F
Paper
Compositional flexibility in Li–N–H materials: implications for ammonia catalysis and hydrogen storage
Joshua W. Makepeace, Jake M. Brittain, Alisha Sukhwani Manghnani, Claire A. Murray, Thomas J. Wood and William I. F. David
Phys. Chem. Chem. Phys., 2021, 23, 15091-15100. DOI: 10.1039/D1CP02440J
Paper
Experimental measurement and prediction of ionic liquid ionisation energies
Jake M. Seymour, Ekaterina Gousseva, Alexander I. Large, Coby J. Clarke, Peter Licence, Richard M. Fogarty, David A. Duncan, Pilar Ferrer, Federica Venturini, Roger A. Bennett, Robert G. Palgrave and Kevin R. J. Lovelock
Phys. Chem. Chem. Phys., 2021, 23, 20957-20973. DOI: 10.1039/D1CP02441H
Paper
Direct observation of the solvent organization and nuclear vibrations of [Ru(dcbpy)2(NCS)2]4−, [dcbpy = (4,4′-dicarboxy-2,2′-bipyridine)], via ab initio molecular dynamics
Fulvio Perrella, Alessio Petrone and Nadia Rega
Phys. Chem. Chem. Phys., 2021, 23, 22885-22896. DOI: 10.1039/D1CP03151A
Paper
Interaction of nanoparticles with lipid films: the role of symmetry and shape anisotropy
Lucrezia Caselli, Andrea Ridolfi, Gaetano Mangiapia, Pierfrancesco Maltoni, Jean-François Moulin, Debora Berti, Nina-Juliane Steinke, Emil Gustafsson, Tommy Nylander and Costanza Montis
Phys. Chem. Chem. Phys., 2022, 24, 2762-2776. DOI: 10.1039/D1CP03201A
Paper
Phenolic compounds alter the ion permeability of phospholipid bilayers via specific lipid interactions
Sheikh I. Hossain, Suvash C. Saha and Evelyne Deplazes
Phys. Chem. Chem. Phys., 2021, 23, 22352-22366. DOI: 10.1039/D1CP03250J
We hope you enjoy reading the articles. Please get in touch if you have any questions about this themed collection or PCCP.