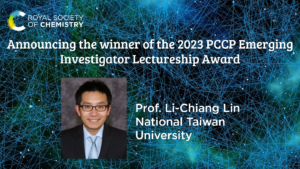 The 2023 PCCP Emerging Investigator Lectureship is awarded to Prof. Li-Chiang Lin!
The Lectureship is awarded to recognise and support emerging scientists working in physical chemistry, chemical physics or biophysical chemistry, who are making outstanding contributions to their field, at an early stage of their careers.
In 2022, nominations were open to all and were made by leading researchers from around the world. After careful deliberation, Prof. Li-Chiang Lin (National Taiwan University) was selected as the 2023 recipient by the PCCP Editorial Board. In addition, a number of the outstanding shortlisted nominees will be invited to contribute to an Emerging Investigators themed collection, which will be published in 2023.
Li-Chiang Lin was born in Taiwan. He received his Ph.D. degree in Chemical Engineering from the University of California-Berkeley and conducted postdoctoral research at Massachusetts Institute of Technology in Materials Science and Engineering. Before he moved back to Taiwan, he was formerly an Assistant Professor at Delft University of Technology, followed by an appointment as an Assistant Professor and the inaugural holder of the Umit S. Ozkan Professorship at the Ohio State University (OSU). He is currently an Associate Professor in the Department of Chemical Engineering at National Taiwan University (NTU, 2021 – present). He also holds an Adjunct Associate Professor position in the William G. Lowrie Department of Chemical and Biomolecular Engineering at OSU. To date, he has published more than 100 peer-reviewed research articles.
Prof. Lin has received several awards, such as the 2022 Outstanding Research Award for Young Professors from the LCY Education Foundation, 2022 Young Scholar Award from the Taiwan Membrane Society, 2021 Yushan Young Scholar Award, I&EC Research 2021 Class of Influential Researchers – The Americas, 2021 AIChE Futures, 2020 Lumley Research Award from OSU, and the 2019 Triennial Award for Excellence in Publications from the International Adsorption Society. He has also received the highest teaching honour from OSU, the 2021 Alumni Award for Distinguished Teaching.
"Our group at National Taiwan University applies and develops computational methods to study nanoporous materials including, but are not limited to, zeolites and metal-organic frameworks for their potential in energy-related applications such as gas separation, storage, and liquid purification. By employing state-of-the-art molecular simulations, density functional theory calculations, and machine learning techniques, we seek to identify promising candidates as well as to shed light on the structure-property relationship for rational design of materials with an improved performance. We also work on the development of new methods for accelerated simulations with a better accuracy."
For more information about the Lin Group, please visit https://sites.google.com/view/lin-research-group
As part of the Lectureship Prof. Li-Chiang Lin will be awarded a travel bursary of £1000 to attend and present at a leading international event in 2023, where he will be presented his Lectureship award. Prof. Li-Chiang Lin has also been invited to contribute a Perspective article to PCCP.
Many congratulations to Prof. Li-Chiang Lin on behalf of the PCCP Editorial Board, Office and Ownership Societies.
Nominations for the 2024 PCCP Emerging Investigator Lectureship will open this month, keep up to date with latest journal news on the blog, Twitter, newsletter and e-TOC alerts.