We are delighted to announce that the Physical Chemistry Chemical Physics (PCCP) themed collection Developments in Ultrafast Spectroscopy is now online and free to access until the start of September 2022.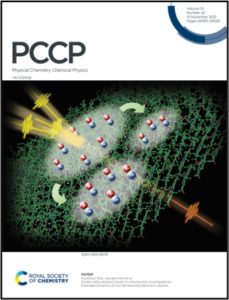 The scope of this themed collection is designed to disseminate state-of-the-art theoretical and experimental developments, and to demonstrate their potential in the interpretation and prediction of a variety of processes at the physics-chemistry-biology-materials frontiers. By exploring the intimacy of matter, ultrafast spectroscopy not only provides detailed structural understanding but also in-depth knowledge of the processes that control primary functions, either at the atomic and molecular scale or in specific environments.
Guest Edited by Professor Chantal Daniel, Professor Luis Bañares, Professor Spiridoula Matsika and Professor Jin Zhao, this collection aims at promoting the ability of attosecond-to-picosecond laser pulses to decipher ultrafast dynamics of charge carriers, atoms and molecules in gas and condensed phases.
Read the full issue online
It includes:
Editorial
Developments in ultrafast spectroscopy
Chantal Daniel, Luis Bañares, Spiridoula Matsika and Jin Zhao
Phys. Chem. Chem. Phys., 2022, 24, 12082-12082. DOI: 10.1039/D2CP90063G
Perspective
Ultrafast processes: coordination chemistry and quantum theory
Chantal Daniel
Phys. Chem. Chem. Phys., 2021, 23, 43-58. DOI: 10.1039/D0CP05116K
Paper
Hot carrier relaxation in CsPbBr3 nanocrystals: electron–hole asymmetry and shape effects
Qiang Gao and Jun Kang
Phys. Chem. Chem. Phys., 2022, 24, 9891-9896. DOI: 10.1039/D2CP00634K
Paper
Effects of oxygen vacancies on the photoexcited carrier lifetime in rutile TiO2
Lili Zhang, Weibin Chu, Qijing Zheng and Jin Zhao
Phys. Chem. Chem. Phys., 2022, 24, 4743-4750. DOI: 10.1039/D1CP04248C
Paper
Ultrafast molecular dynamics in ionized 1- and 2-propanol: from simple fragmentation to complex isomerization and roaming mechanisms
Debadarshini Mishra, Juan Reino-González, Razib Obaid, Aaron C. LaForge, Sergio Díaz-Tendero, Fernando Martín and Nora Berrah
Phys. Chem. Chem. Phys., 2022, 24, 433-443. DOI: 10.1039/D1CP04011A
Paper
Ultrafast relaxation investigated by photoelectron circular dichroism: an isomeric comparison of camphor and fenchone
Valérie Blanchet, Dominique Descamps, Stéphane Petit, Yann Mairesse, Bernard Pons and Baptiste Fabre
Phys. Chem. Chem. Phys., 2021, 23, 25612-25628. DOI: 10.1039/D1CP03569J
Paper
Exciton delocalization length in chlorosomes investigated by lineshape dynamics of two-dimensional electronic spectra
Sunhong Jun, Cheolhee Yang, Seungjoo Choi, Megumi Isaji, Hitoshi Tamiaki, Hyotcherl Ihee and Jeongho Kim
Phys. Chem. Chem. Phys., 2021, 23, 24111-24117. DOI: 10.1039/D1CP03413H
We hope you enjoy reading the articles. Please get in touch if you have any questions about this themed collection or PCCP.