The Deutsche Bunsen-Gesellschaft and Physical Chemistry Chemical Physics (PCCP) are delighted to announce that the official themed issue of the Bunsentagung 2019 meeting is now online.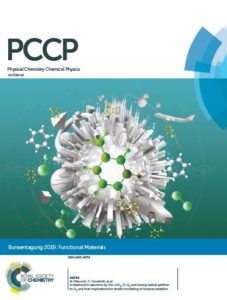 Functional materials form the core of many modern technologies, e.g. in energy conversion and storage, heterogeneous catalysis, drug delivery, implants, biosensors and optical devices. The challenges in the design and characterization of modern materials are diverse and interdisciplinary. They require joint research across scientific boundaries. The most challenging tasks range from the synthesis of materials, the developments of novel experimental characterization tools and theoretical methods for atomistic description of material properties, in silico material screening for tailoring the interaction of materials with their environment and device engineering. Physical chemistry is a key scientific discipline for successful achievement of these tasks.
The issue is guest-edited by Benjamin Dietzek (Jena University), Leticia Gonzalez (University of Vienna), Christina Roth Free (University of Berlin), Sebastian Schlücker (University of Duisburg-Essen), Andrey Turchanin (Jena University), Dr Maria Wächtler (Leibniz Institute of Photonic Technology, Jena).
Read the official full collection online free until 31 August 2019.