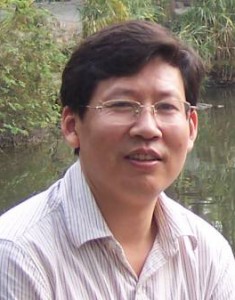 We are sad to announce that Professor Gaoquan Shi passed away on the 1st March 2018. Gaoquan will be sorely missed by PCCP and the entire community. A PCCP Associate Editor for over five years, his contributions to the journal, field and community were widespread.
As a Professor of Chemistry at Tsinghua University, his research interests were focused on functional polymers, especially the syntheses and applications of conducting polymers and carbon nanomaterials.
A selection of Gaoquan's recently published articles are highlighted below in his memory.
Paper 
High-performance gas sensors based on a thiocyanate ion-doped organometal halide perovskite
Yue Zhuang, Wenjing Yuan, Liu Qian, Shan Chen and Gaoquan Shi
Phys. Chem. Chem. Phys., 2017, 19, 12876-12881. DOI: 10.1039/C7CP01646H
Communication 
Pyridinic nitrogen-rich carbon nanocapsules from a bioinspired polydopamine derivative for highly efficient electrocatalytic oxygen reduction
Zhengran Yi, Zheye Zhang, Shuai Wang and Gaoquan Shi
J. Mater. Chem. A, 2017, 5, 519-523. DOI: 10.1039/C6TA09315A
 
Edge Article 
Water-enhanced oxidation of graphite to graphene oxide with controlled species of oxygenated groups
Ji Chen, Yao Zhang, Miao Zhang, Bowen Yao, Yingru Li, Liang Huang, Chun Li and Gaoquan Shi
Chem. Sci., 2016, 7, 1874-1881. DOI: 10.1039/C5SC03828F
Review Article 
Flexible graphene devices related to energy conversion and storage
Xiluan Wang and Gaoquan Shi
Energy Environ. Sci., 2015, 8, 790-823. DOI: 10.1039/C4EE03685A