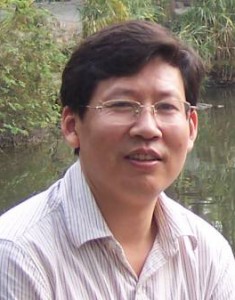 We are delighted to welcome Professor Gaoquan Shi as a new Associate Editor for Physical Chemistry Chemical Physics (PCCP). His research interests are focused on functional polymers, especially the syntheses and applications of conducting polymers and carbon nanomaterials.
Professor Shi has been a professor of Chemistry at Tsinghua University since 2000. In 2004,  he received the 2nd grade award of Natural Science of China and the youth knowledge innovation prize of Chinese Chemical Society and BASF Company.
Professor Shi will start handling papers soon and so we encourage you to submit to his editorial office.
Read some of Professor Shi's recent articles in PCCP:
Synthesis of gold@carbon dots composite nanoparticles for surface enhanced Raman scattering
Peihui Luo, Chun Li and Gaoquan Shi
DOI: 10.1039/C2CP40767A
Supercapacitors based on self-assembled graphene organogel
Yiqing Sun, Qiong Wu and Gaoquan Shi
DOI: 10.1039/C1CP22409C
High-performance supercapacitor electrodes based on graphene hydrogels modified with 2-aminoanthraquinone moieties
Qiong Wu, Yiqing Sun, Hua Bai and Gaoquan Shi
DOI: 10.1039/C1CP20980A