PCCP was delighted to award poster prizes at the Bunsentagung 2014, which took place on 29–31 May at the University of Hamburg.
A total of eight poster prizes were awarded to the following recipients: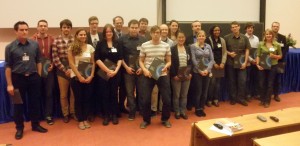 Alexander Riss (University of California Berkeley)
Marina Schenk (Bielefeld University)
Mona Calik (University of Munich)
Maria Wuithschick (Humboldt University of Berlin)
Christian Heine (Fritz Haber Institute of the MPG)
Denis Czurlok (University of Bonn)
Sascha Schäfer (University of Göttingen)
Johannes Lang (University of Kaiserslautern)
A further 10 winners were also awarded with the PCCP 'Hot Topics' Prize: Janika Lauth (University of Hamburg), Wei Liu (Dresden University of Technology), Michael Senske (Ruhr University Bochum), Benjamin Sperlich (Dortmund University), Uta Stange (University of Kiel), Helen Preiß (University of Göttingen), Jan Goritzka (University of Bremen), Simon Merz (Radboud University Nijmegen), Manuel Tsotsalas (Karlsruhe Institute of Technology) and Roland Frach (TU Dortmund).
Congratulations to the recipients of all the prizes!
Keep up to date with the latest PCCP articles and news: sign up to receive our free table of contents e-alerts and follow us on twitter.