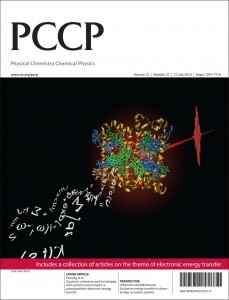 Physical Chemistry Chemical Physics (PCCP) Advisory Board member Professor Carlo Adamo, an expert in the fields of excited states, proton and electron transfer, has picked his favourite articles recently published in this area in PCCP.
Read Professor Adamo's Editor's choice selection for free today:

Quantum coherence and its interplay with protein environments in photosynthetic electronic energy transfer
Akihito Ishizaki, Tessa R. Calhoun, Gabriela S. Schlau-Cohen and Graham R. Fleming
DOI: 10.1039/C003389H
Energetics and dynamics of proton transfer reactions along short water wires
Ville R. I. Kaila and Gerhard Hummer
DOI: 10.1039/C1CP21112A
Multiscale modelling of mesoscopic phenomena triggered by quantum events: light-driven azo-materials and beyond
Marcus Böckmann, Dominik Marx, Christine Peter, Luigi Delle Site, Kurt Kremer and Nikos L. Doltsinis
DOI: 10.1039/C0CP01661F
Combined effect of stacking and solvation on the spontaneous mutation in DNA
José P. Cerón-Carrasco, José Zúñiga, Alberto Requena, Eric A. Perpète, Catherine Michaux and Denis Jacquemin
DOI: 10.1039/C1CP20946A
QM/MM studies of structural and energetic properties of the far-red fluorescent protein HcRed
Qiao Sun, Markus Doerr, Zhen Li, Sean C. Smith and Walter Thiel
DOI: 10.1039/B918523B
Effect of solvent and additives on the open-circuit voltage of ZnO-based dye-sensitized solar cells: a combined theoretical and experimental study
Tangui Le Bahers, Frédéric Labat, Thierry Pauporté and Ilaria Ciofini
DOI: 10.1039/C004358C
Theoretical study of the opsin shift of deprotonated retinal schiff base in the M state of bacteriorhodopsin
Kazuhiro J. Fujimoto, Kota Asai and Jun-ya Hasegawa
DOI: 10.1039/C0CP00361A
Multiscale quantum mechanics/electromagnetics simulation for electronic devices
ChiYung Yam, Lingyi Meng, GuanHua Chen, Quan Chen and Ngai Wong
DOI: 10.1039/C1CP20766K
Fluorescence spectra of organic dyes in solution: a time dependent multilevel approach
Vincenzo Barone, Julien Bloino, Susanna Monti, Alfonso Pedone and Giacomo Prampolini
DOI: 10.1039/C0CP01320J
Insights on the mechanism of proton transfer reactions in amino acids
Fernanda Duarte, Esteban Vöhringer-Martinez and Alejandro Toro-Labbé
DOI: 10.1039/C0CP02076A
Publishing work of the highest quality in the broad fields of physical chemistry, chemical physics and biophysical chemistry, PCCP is the ideal place to publish your research.
On behalf of the Editorial Board we invite you to submit your best work to PCCP.