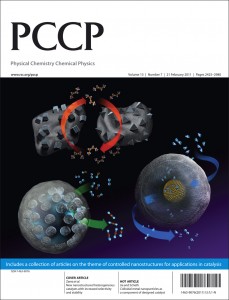 Physical Chemistry Chemical Physics (PCCP) Advisory Board member Professor Yasuhiro Iwasawa, an expert in the field of catalysis and surface chemistry, has picked his favourite articles recently published in this area in PCCP.
Read Professor Iwasawa's Editor's choice selection today:
Single-molecule nanoscale electrocatalysis
Hao Shen, Weilin Xu and Peng Chen
DOI: 10.1039/C000448K
Nanoporous gold: a new material for catalytic and sensor applications
Arne Wittstock, Jürgen Biener and Marcus Bäumer
DOI: 10.1039/C0CP00757A
Characterization of Fe sites in Fe-zeolites by FTIR spectroscopy of adsorbed NO: are the spectra obtained in static vacuum and dynamic flow set-ups comparable?
Gloria Berlier, Carlo Lamberti, Mickaël Rivallan and Guido Mul
DOI: 10.1039/B917646M
The role of Cu on the reduction behavior and surface properties of Fe-based Fischer–Tropsch catalysts
Emiel de Smit, Frank M. F. de Groot, Raoul Blume, Michael Hävecker, Axel Knop-Gericke and Bert M. Weckhuysen
DOI: 10.1039/B920256K
Oscillatory behaviour of catalytic properties, structure and temperature during the catalytic partial oxidation of methane on Pd/Al2O3
Bertram Kimmerle, Alfons Baiker and Jan-Dierk Grunwaldt
DOI: 10.1039/B924001B
Combined TPRx, in situ GISAXS and GIXAS studies of model semiconductor-supported platinumcatalysts in the hydrogenation of ethane
Sonja A. Wyrzgol, Susanne Schäfer, Sungsik Lee, Byeongdu Lee, Marcel Di Vece, Xuebing Li, Sönke Seifert, Randall E. Winans, Martin Stutzmann, Johannes A. Lercher and Stefan Vajda
DOI: 10.1039/B926493K
In situ time-resolved DXAFS for the determination of kinetics of structural changes of H-ZSM-5-supported active Re-cluster catalyst in the direct phenol synthesis from benzene and O2
Mizuki Tada, Yohei Uemura, Rajaram Bal, Yasuhiro Inada, Masaharu Nomura and Yasuhiro Iwasawa
DOI: 10.1039/C000843P
Hydrogen induced CO activation on open Ru and Co surfaces
Sharan Shetty and Rutger A. van Santen
DOI: 10.1039/B926731J
Size-selected clusters as heterogeneous model catalysts under applied reaction conditions
Sebastian Kunz, Katrin Hartl, Markus Nesselberger, Florian F. Schweinberger, GiHan Kwon, Marianne Hanzlik, Karl J. J. Mayrhofer, Ueli Heiz and Matthias Arenz
DOI: 10.1039/C0CP00288G
Pt promotion and spill-over processes during deposition and desorption of upd-Had and OHad on PtxRu1−x/Ru(0001) surface alloys
Harry E. Hoster, Michael J. Janik, Matthew Neurock and R. Jürgen Behm
DOI: 10.1039/C003635H
O2 adsorption and dissociation on neutral, positively and negatively charged Aun (n = 5–79) clusters
Alberto Roldán, Josep Manel Ricart, Francesc Illas and Gianfranco Pacchioni
DOI: 10.1039/C004110F
Unravelling the atomic structure of cross-linked (1 × 2) TiO2(110)
Hans Hermann Pieper, Krithika Venkataramani, Stefan Torbrügge, Stephan Bahr, Jeppe V. Lauritsen, Flemming Besenbacher, Angelika Kühnle and Michael Reichling
DOI: 10.1039/C0CP00160K
'Nanoreactors' for photocatalytic H2 evolution in oil–water biphase systems
Jiehua Liu, Xiangfeng Wei, Yaolun Yu, Xin Wang, Wei-Qiao Deng and Xue-Wei Liu
DOI: 10.1039/C0CP01396J
Publishing work of the highest quality in the broad fields of physical chemistry, chemical physics and biophysical chemistry, PCCP is the ideal place to publish your research.
On behalf of the Editorial Board we invite you to submit your best work to PCCP.
PCCP now offers you the chance to publish your accepted article as an Accepted Manuscript. This means that your research is available, in citable form, to the community even more rapidly. Click here to find out more.