A new metal-organic-framework (MOF) based sensor for the explosive, trinitrophenol (TNP or picric acid), is reported by scientists at the Indian Institute of Technology,  Guwahati, India.
MOFs have been studied for a variety of potential uses, including as sensors.  The size and electronic properties of their pores can make MOFs sensitive to particular compounds and these features can be readily modified.  In their paper,  Mostakim SK and Shyam Biswas describe a MOF formed from Zr(IV) and the ligand 4,4′-(benzoijc]ij1,2,5]thiadiazole-4,7-diyl)dibenzoic acid (H2BTDB).  The as-synthesised material, [Zr6O4(OH)4(BTDB)6]·8H2O·6DMF, is activated by stirring with methanol and heating under vacuum, removing water and DMF from the pores. This activated MOF is strongly luminescent both in the solid state and in organic solvents.
Luminescence is quenched in the presence of TNP, an explosive commonly used in the production of fireworks, landmines and matches.  Other uses include: as an antiseptic and to treat burns, in metallurgy and in the dyeing industry. Shock or friction can cause dry TNP to explode so it is usually stored wet for safety reasons.   TNP is also mutagenic and/or carcinogenic and its presence in the environment as a result of industry is problematic.  Current detection methods for TNP and other related explosive compounds have low selectivity and are not portable.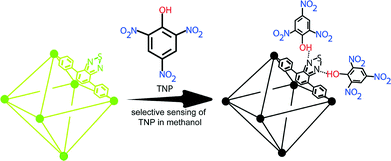 Schematic representation of the selective sensing of TNP
This new MOF not only allows detection of TNP at levels as low as 1.63 × 10−6 M, but is also selective for TNP in the presence of other similar compounds such as trinitrotoluene (TNT). The MOF is also photostable and reusable and therefore has potential for use as a portable TNP sensor in practical situations. The authors are now investigating other potential sensors based on luminescent MOFs using related ligands.
For more information, see the full paper here:
A thiadiazole-functionalized Zr(IV)-based metal–organic framework as a highly fluorescent probe for the selective detection of picric acid
Mostakim SK and Shyam Biswas
CrystEngComm, 2016, Advance Article
DOI: 10.1039/C6CE00421K
__________________________________________________________________________________________________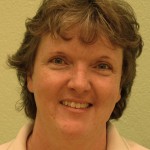 Gwenda Kyd has a PhD in metallocarborane chemistry from the University of Edinburgh. Other research work includes the spectroscopic study of the structure of glasses and organometallic electron-transfer reactions and the preparation of new inorganic phosphors. She has recently published a book on chemicals from plants.