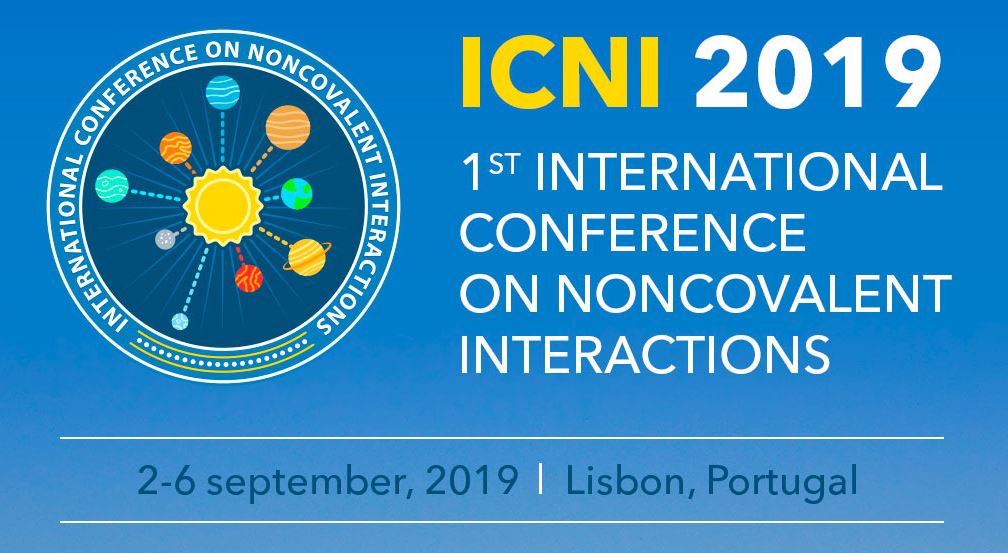 Have you read our cross-journal web collection celebrating the 1st International Conference on Noncovalent Interactions yet? With articles from CrystEngComm, Dalton Transactions, New Journal of Chemistry,  RSC Advances, Physical Chemistry Chemical Physics, Chemical Science, ChemComm and more, this collection is not one to miss!
Noncovalent interactions (hydrogen, aerogen, halogen, chalcogen, pnictogen, tetrel and icosagen bonds, as well as cation-π, anion-π, lone pair-π, π-π stacking, agostic, pseudo-agostic, anagostic, dispersion-driven, lipophilic, etc.) concern weak forces of attraction formed between different molecules (intermolecular) or fragments of the same molecule (intramolecular). While these weak interactions were firstly taken into consideration by van der Waals in 1873, the understanding of their crucial role in synthesis, catalysis, crystal engineering, pharmaceutical design, molecular biology, molecular recognition, materials, etc. has been increasingly explored in the last few decades.
Thus, it is timely to establish a general/regular series of International Conferences on Noncovalent Interactions (ICNI), the first of which is to be held on 2-6 September 2019 in Lisbon. The conference aims to bring together scientists from around the world working on this field in order to exchange ideas, discuss recent advances and future directions/plans.
Guest-Edited by Kamran T Mahmudov and Armando J L Pombeiro, this collection brings together previous papers as well as new articles celebrating noncovalent interactions. Remember to check back regularly to see our latest articles up to and after the conference takes place!
Browse a collection of our latest articles today:
Chirality-dependent halogen bonds in axially chiral quinazolin-4-one derivatives bearing ortho-halophenyl groups
Tomomi Imai, Erina Niijima, Shumpei Terada, Alicja Wzorek, Vadim A. Soloshonok, Akiko Hori and Osamu Kitagawa
CrystEngComm, 2019, 21, 3385-3389
DOI: 10.1039/C9CE00320G, Communication
[2+2] Halogen-bonded boxes employing azobenzenes
Esther Nieland, Thomas Topornicki, Tom Kunde and Bernd M. Schmidt
Chem. Commun., 2019, 55, 8768-8771
DOI: 10.1039/C9CC03061A, Communication
Analysis of energies of halogen and hydrogen bonding interactions in the solid state structures of vanadyl Schiff base complexes
Snehasish Thakur, Michael G. B. Drew, Antonio Franconetti, Antonio Frontera and Shouvik Chattopadhyay
RSC Adv., 2019, 9, 4789-4796
DOI: 10.1039/C8RA09947B, Paper
Organocatalysis by a multidentate halogen-bond donor: an alternative to hydrogen-bond based catalysis
Manomi D. Perera and Christer B. Aakeröy
New J. Chem., 2019, 43, 8311-8314
DOI: 10.1039/C9NJ01404G, Paper
Tetra-, hexa- and octanuclear copper hydride complexes supported by tridentate phosphine ligands
Takayuki Nakajima, Kanako Nakamae, Rika Hatano, Kaho Imai, Masafumi Harada, Yasuyuki Ura and Tomoaki Tanase
Dalton Trans., 2019, 48, 12050-12059
DOI: 10.1039/C9DT02467K, Paper
Correlation of the partial charge-transfer and covalent nature of halogen bonding with the THz and IR spectral changes
Hajime Torii
Phys. Chem. Chem. Phys., 2019, 21, 17118-17125
DOI: 10.1039/C9CP02747E, Paper
On the importance of antiparallel π–π interactions in the solid state of isatin-based hydrazides
Muhammad Naeem Ahmed, Maryam Arif, Farah Jabeen, Haroon Ahmed Khan, Khawaja Ansar Yasin, Muhammad Nawaz Tahir, Antonio Franconetti and Antonio Frontera
New J. Chem., 2019, 43, 8122-8131
DOI: 10.1039/C9NJ00405J, Paper
Have any queries about publishing with CrystEngComm, Dalton Transactions or New Journal of Chemistry? Our Deputy Editor Mike Andrews will be attending in September so don't forget to say hello.

Submit your work to CrystEngComm – Check our website for handy tips and guidelines or find out more about the benefits of publishing with the Royal Society of Chemistry.