Have you read our latest themed collection on 'The effects of extreme conditions on molecular solids'?
Guest-edited by Iain D. H. Oswald and Christine M. Beavers, this collection delves into the realm of high pressure and celebrates the advances that have been made over the past few years. The breadth of systems investigated in this issue demonstrate an increase in complexity as well as the advancements in techniques that have enabled this to occur.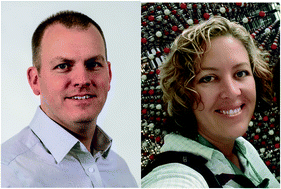 Read the full collection online here or browse a selection of articles below:
The high-pressure and low-temperature structural behaviour of 2,2,2-trifluoroethanol
S. A. Barnett and D. R. Allan
CrystEngComm, 2019, 21, 4501-4506
DOI: 10.1039/C9CE00485H, Paper
High-pressure polymorphism in L-threonine between ambient pressure and 22 GPa
Nico Giordano, Christine M. Beavers, Konstantin V. Kamenev, William G. Marshall, Stephen A. Moggach, Simon D. Patterson, Simon J. Teat, John E. Warren, Peter A. Wood and Simon Parsons
CrystEngComm, 2019, 21, 4444-4456
DOI: 10.1039/C9CE00388F, Paper
A structural exploration of anisole accessed through extreme crystallisation conditions
Ellie Louvain Smith, Joe Ridout, Jonathan David Sellars and Michael Richard Probert
CrystEngComm, 2019, 21, 4422-4426
DOI: 10.1039/C9CE00870E, Communication
High-pressure crystallisation studies of biodiesel and methyl stearate
X. Liu, C. L. Bull, A. K. Kleppe, P. J. Dowding, K. Lewtas and C. R. Pulham
CrystEngComm, 2019, 21, 4427-4436
DOI: 10.1039/C9CE00393B, Paper
Submit your work to CrystEngComm – Check our website for handy tips and guidelines or find out more about the benefits of publishing with the Royal Society of Chemistry.