We are delighted to announce that CrystEngComm will be publishing a number of themed issues in 2014. The following two issues are now open for submissions, and we want you to submit your work. Read on if your research lies within these two areas: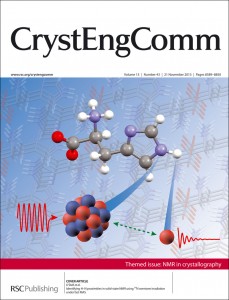 Structural Macrocyclic Supramolecular Chemistry–deadline 11th November 2013
Functional Co-crystals— deadline 13th January 2014
Details of the scope of each issue is below.
How to submit?
All types of manuscript—communications, full papers and Highlights, will be considered for publication. The manuscript should be prepared according to our article guidelines and submitted via our online system.
All manuscripts will be subject to the normal refereeing procedure and inclusion in the themed issue will be at the discretion of the Guest Editors. Please indicate in your submission that you would like the manuscript to be considered for this themed issue.
Issue scopes
Structural Macrocyclic Supramolecular Chemistry
Guest edited by Prof. Len Barbour, Prof. Len MacGillivray, and Academy Professor Kari Rissanen, this themed issue will focus on solid state structural chemistry of supramolecular complexes and assemblies consisting of, or containing, macrocyclic compounds as essential structural elements, including but not limited to calixarenes, resorcinarens, cyclodextrins, pillarenes, and cucubiturils.
Functional Co-crystals
Guest edited by Prof. Colin Pulham, this issue highlights how co-crystals with specific functionalities can be designed and prepared. A special focus is on the structure-property relationships in co-crystals and whether one can make predictions about how molecular components may interact in a co-crystal,and how functional properties may be designed and tailored.