Posted on behalf of Gwenda Kyd, web writer for CrystEngComm
The efficacy of some anti-cancer treatments could potentially be increased and side-effects reduced by improved transport and specific delivery of drugs to the tumour site. The porosity of metal-organic frameworks (MOFs) makes them attractive potential carriers. In addition, MOFs can have multiple pore types with different characateristics and also exposed metal sites where molecules can coordinate, so the inclusion of multiple bioactive molecules in the same carrier may be possible.
In a new paper, the MOF CPO-27-Ni is shown to act as a carrier for both the non-conventional anti-cancer drug RAPTA-C and nitrous oxide (NO). A high concentration of NO in tumour cells is beieved to increase the sensitivity to some cytotoxic drugs. In CPO-27-Ni, the uptake of RAPTA-C and NO are unaffected by each other and both compounds are efficiently released in simulated body fluid. The NO is chemisorbed by interaction with the Ni sites in the MOF while the RAPTA-C is physisorbed into the pores of the framework structure.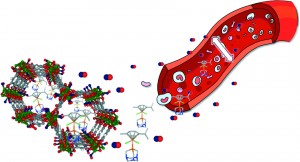 For more information see the paper at:
Metal–organic frameworks as potential multi-carriers of drugs
Sara Rojas, Paul S. Wheatley, Elsa Quartapelle-Procopio, Barbara Gil, Bartosz Marszalek, Russell E. Morris and Elisa Barea
CrystEngComm, 2013, Advance Article
DOI: 10.1039/C3CE41289J, Communication
---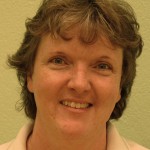 Gwenda Kyd has a PhD in metallocarborane chemistry from the University of Edinburgh. Other research work includes the spectroscopic study of the structure of glasses and organometallic electron-transfer reactions and the preparation of new inorganic phosphors. Currently she works as a scientific database editor.