Posted on behalf of Josh Campbell, web writer for CrystEngComm
Carbon nanotubes (CNTs) have extraordinary mechanical and electrical properties. With applications from space elevators to Damascus steel CNTs are some of the toughest materials on the planet. CNTs have also found their place in drug delivery research due to their high loading capacity and good cell penetration. Functionalization with lipids keeps cytotoxicity down while also promoting water solubility. Even with these advances the full potential of CNTs has not been realised, as the large aspect ratios and shapes of most CNTs prevent easy loading. The synthesis of low aspect ratio CNTs is often used to solve this problem but can be problematic.
A new paper shows the growth of low aspect ratio (3:4) nanocups via pyrolysis of polymethymethacrylate on a copper sheet. The nanocups are rooted vertically on the sheet, and unlike usual CNTs taper towards the root. The walls are very thin and smooth and free of catalyst nanoparticles making them excellent drug delivery candidates. The authors also suggest a mechanism for their growth by comparing results of differing growth times. Nanocups grown for less time show a clearly overlapping edge implying they might be formed by the rolling up of the graphene sheets.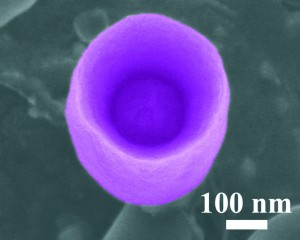 Find out more from the paper:
Low-aspect ratio graphite hollow nanostructures
Wang Lin, Chengming Li, Fengmei Gao, Jinju Zheng, Guodong Wei and Weiyou Yang
CrystEngComm, 2013, Advance Article
DOI: 10.1039/C3CE41542B, Communication
---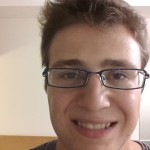 Josh Campbell Josh Campbell is a PhD student currently at the University of Southampton studying crystal structure prediction of organic semiconductors. He received his BSc from the University of Bradford.