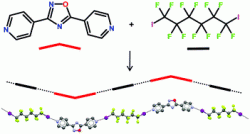 By looking at the structures of halogen-bonded infinite chains with two diiodoperfluoroalkanes and a bent bis(pyrid-4′-yl)oxadiazole, Giuseppe Resnati and colleagues have investigated the influence that halogen bond directionality has on supramolecular design.  The bent geometry of the pyridyl pendant rings in the structures were found to translate into the angle between the formed halogen bonds, taking precedence over parameters that might affect the crystal packing.
Download their HOT CrystEngComm communication today to find out more…
Halogen bond directionality translates tecton geometry into self-assembled architecture geometry
Marco Saccone, Gabriella Cavallo, Pierangelo Metrangolo, Andrea Pace, Ivana Pibiri, Tullio Pilati, Giuseppe Resnati and Giancarlo Terraneo
CrystEngComm, 2013
DOI: 10.1039/C3CE40268A, Communication
This communication is part of a themed issue on Halogen bonding (guest edited by Giuseppe Resnati, Mark Taylor and William Pennington) which is due to go online next week.