Register now for Fire Toxicity Conference 2016
21 to 23 March
An important international forum for experts from across the world, this three day event held at the University of Central Lancashire (UCLAN) will highlight the very latest research and open discussion in all fire and hazard related topics.  Up for discussion will be: lessons learned from major fire disasters, smoke toxicity and the effect of combustion conditions, clinical care of fire smoke injury, forensic investigations of fire toxicity, the physiological effect of fire toxicants and more.
Speakers offering their insights into these topics are some of the fire prevention leaders in Europe, including Juergen Troitszch, Fire and Environment Protection Service, Germany, Peter Holland, UK Chief Fire and Rescue Adviser and Tommy Kiaer, Vice President of the European Fire Fighters Unions Alliance.  In addition, experts from the University of Leuven, Effectis, University of Waterloo, Lawrence Livermore National Laboratory and the National Institute for Occupational Safety and Health, SP Technical Research Institute and the European Commission with also deliver their latest fire hazard research findings, hypotheses and advice.
You can view the full conference programme here.
New publication from the Royal Society of Chemistry
The Royal Society of Chemistry has also recently published this related book entitled Toxicology, Survival and Health Hazards of Combustion Products.  You can purchase this book in the Royal Society of Chemistry bookshop or you can read the first chapter for free through your Personal RSC Publishing Account.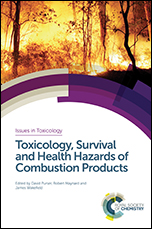 .
Toxicology, Survival and Health Hazards of Combustion Products
Edited by David A. Purser, Robert L. Maynard and James C. Wakefield
Fires are a common source of exposure to smoke and a range of toxicologically active chemicals. Providing a complete overview of the subject, this book provides comprehensive and detailed information on    combustion processes, estimation of rate of production of combustion products, dispersion of these products and their effects on health.
Beginning with a chapter discussing the chemistry of combustion and detailing the mechanisms of burning, how different materials ignite and the nature of combustion products, the book goes on to examine  specific combustion products in detail, the toxicity and carcinogenicity of the products, their dispersion and methods of monitoring.