Open Call for Papers: Novel Biomedical Polymer Materials
Guest Edited by Professor Huayu Tian and Professor Xuesi Chen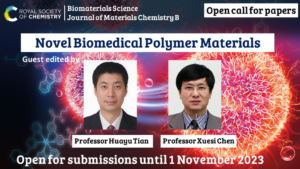 We are delighted to announce a special themed collection on Novel Biomedical Polymer Materials to be published across Biomaterials Science  and Journal of Materials Chemistry B. This collection is Guest Edited by:
Professor Huayu Tian (Xiamen University)
Professor Xuesi Chen (Changchun Institute of Applied Chemistry, University of the Chinese Academy of Sciences)
Submissions Deadline: 1 November 2023
Biomedical polymer materials, as materials for diagnosis, treatment and organ regeneration, have the mission of prolonging patients' lives and improving their quality of life. Their research occupies a very important position in the fields of biotechnology, life sciences and medicine, and different fields of biomedicine have different requirements for biomedical materials. Thus, in order to promote the development of the medical field, the synthesis of new biomaterials is of great significance.
To this end, this themed collection in Journal of Materials Chemistry B and Biomaterials Science aims at providing a platform for recent developments in this rapidly evolving field and we encourage you to submit your latest research to feature in the collection.
Submissions to the journal should fit within the scope of Journal of Materials Chemistry B or Biomaterials Science – Please see the journal's website for more information on the journal's scope, standards, article types and author guidelines. You may submit to whichever journal you feel is most relevant to your current research. Please note that your article may be offered a transfer to the alternate journal if deemed more appropriate by the handling Editor. Articles that primarily focus on providing insight into the underlying science and performance of biomaterials within a biological environment are more suited to Biomaterials Science. whereas articles that primarily focus on demonstrating novel materials chemistry and bring a molecular picture on a given material's suitability as a biomaterial are more suited to Journal of Materials Chemistry B.
For this collection, we strongly encourage full primary research in the way of Full Papers or Communications.
All manuscripts must be in scope for the journal and will undergo the normal initial assessment and peer review processes in line with the journal's high standards, managed by the journal editors. Accepted manuscripts will be added to the online collection as soon as they are published and they will be featured in a regular issue of the relevant journal.
If you would like to contribute to this themed collection, please submit your article directly through the Biomaterials Science submission service or the Journal of Materials Chemistry B submission service. Please mention that your submission is a contribution to the Novel Biomedical Polymer Materials collection in the "Themed issues" section of the submission form and add a "Note to the Editor" that this is from the Open Call. The Editorial Office reserves the right to check suitability of submissions in relation to the scope of both the journal and the collection, and as such inclusion of accepted articles in the final themed collection is not guaranteed. All submissions will be subject to initial assessment and sent for peer review, if appropriate. We cannot guarantee peer review or acceptance of your submission in the journal.
If you have any questions about the collection or the submissions process, please do contact the Editorial Office at biomaterialsscience-rsc@rsc.org and they will be able to assist.
We look forward to receiving your latest work and considering it for this collection!