We are pleased to introduce the Biomaterials Science Outstanding Student Paper Award. This new annual award recognises outstanding work published in the journal, for which a substantial component of the research was conducted by a student. Read below for more information.
Our 2019 Winner 
The inaugural recipient of the 2019 Biomaterials Science Outstanding Student Paper award is Ms Jenna Graham, who has now completed her PhD within the Vogel group at ETH Zürich, for her contributions towards the paper titled 'Fibrillar fibronectin plays a key role as nucleator of collagen I polymerization during macromolecular crowding-enhanced matrix assembly' (DOI: 10.1039/ C9BM00868C).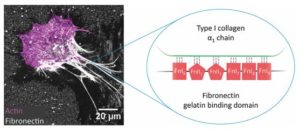 In this paper, the authors investigate the underpinning mechanisms how macromolecular crowding, a property of the native extracellular environment that tissue engineers mimic in in vitro cell culture, accelerates the assembly of a tissue matrix environment by the cultured cells themselves. The authors demonstrate that crowding increases the deposition of low-tension fibronectin to the substrate surface, which then acts as a scaffold for collagen matrix assembly. Although previous studies showed that crowding enhances the enzymatic cleavage of collagen and collagen polymer assembly, this work found that fibroblast cells must first build fibronectin fibers before collagen matrix can be assembled, and that this process is also accelerated by crowding. In fact, if cells are not able to harvest fibronectin from their environment and build fibers due to, for instance, chemical crosslinking, the enhancing effect of crowding on matrix assembly is abolished. These findings identify fibronectin as a key component in tissue engineering systems and demonstrate that adding supplemental fibronectin in the form of an adsorbed surface coating can further accelerate extracellular matrix assembly in a crowded cell culture environment.
Read the full article here now!
Eligibility
In order to be eligible for this award, the nominee must:
Have been a student at the time the research was conducted.

Be first author of a research article published in 2019 in Biomaterials Science.
Selection Process
In order to choose the winner of the 2019 Outstanding Student Paper Award, a shortlist of articles that were published throughout the year were selected by the editorial office and then subsequently assessed by the journal's Editorial Board members. The winner was selected based upon the significance, impact and quality of the research.
Prize
The winner of the Outstanding Student Paper Award will receive an engraved plaque and a travel bursary of £500 to use towards a meeting of their choice.
***
To have your paper considered for the 2020 Biomaterials Science Outstanding Student Award, simply indicate upon submission if the first author of the paper fulfils this criteria.