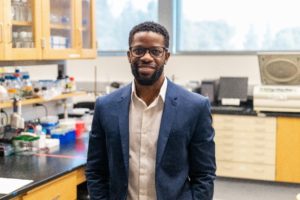 Jamal Lewis is an Associate Professor in Biomedical Engineering at the University of California, Davis. Prior to his professorship, Dr. Lewis was Senior Scientist at OneVax, LLC and a Post Doctoral Associate in the J. Crayton Pruitt Family Department of Biomedical Engineering at the University of Florida, where he also received a Ph.D. in Biomedical Engineering in 2012. Dr. Lewis completed his B.S. in Chemical Engineering from Florida A&M University in 2004, and M.S. in Biomedical Engineering in 2007 from North Carolina State University. His research, educational and entrepreneurial efforts have been supported by the NIH and DOD. His honors and awards include the prestigious NIH Early Stage Investigator MIRA, Regenerative Medicine Workshop Young Faculty Award, and the Cellular and Molecular Bioengineering Young Innovators Award. He can be found on Twitter @JamalSLewisPhD.
Read Jamal's Emerging Investigator article "Polymer-loaded hydrogels serve as depots for lactate and mimic "cold" tumor microenvironments" and check out all of the 2021 Biomaterials Science Emerging Investigator articles here.
How do you feel about Biomaterials Science as a place to publish research on this topic?
Our publication in Biomaterials Science focuses on the development of an engineered biomaterials-based model to understand the immunomodulatory properties of lactate in vivo. The PLGA MP-loaded hydrogels recapitulate the immunosuppressive, "cold" tumor environment and serve as a proxy for the TME. As such, we can use this biomaterials construct to answer fundamental cancer biology questions in vivo, which dovetails closely with the scope of this journal.