Droplets rolling across a lotus leaf spark device assembly idea
Scientists from China and Portugal have drawn inspiration from lotus leaves to devise a technique for arranging a wide range of materials, including cells, proteins and quantum dots, on a surface. Their method could be useful for making biomedical devices.
The team, led by Wenlong Song from Jilin University, noticed how water droplets strip dust from lotus leaves when they roll across their superhydrophobic surface. 'We supposed that if this could be managed by a suitable driving force, it would allow the transfer of water-soluble materials onto the surface,' explains Song.
They've done just that and designed a protein printing method using hydrogel droplets controlled by a magnetic field.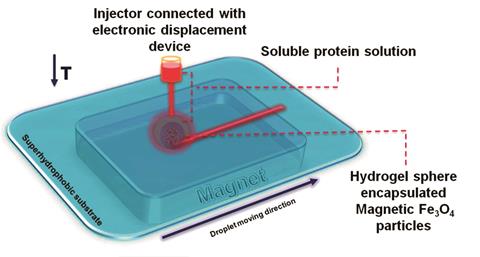 Check out the full story by Charlie Quigg in Chemistry World!
---
This article is free to access until 24 March 2017
J Wang et al, Biomater. Sci., 2017, DOI: 10.1039/c6bm00867d