We are delighted to announce that the Polymeric biomaterials for cancer nanotechnology themed issue is now available online.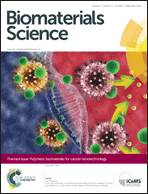 Guest Edited by Jianjun Cheng (University of Illinois at Urbana-Champaign, USA) and Suzie H. Pun (University of Washington, USA), this themed issue highlights the latest discoveries and innovations in polymeric biomaterials for cancer nanotechnology.
Polymeric biomaterials have been extensively used in nanomedicine formulations for cancer therapy. Preclinical and clinical studies have in general revealed that polymeric nanocarriers, when used for chemotherapeutic drug delivery, reduce systemic toxicity and thus mitigate adverse side effects of the drug. This themed issue contains reviews and research articles in the areas of: (i) expanding the available suite of polymeric biomaterials that can be reproducibly and controllably manufactured at a suitable scale, (ii) designing carriers with improved biodistribution to tumour sites, (iii) increasing tumour distribution and penetration of polymeric nanocarriers, and (iv) controlling efficient drug release at a desired location and with optimal kinetics.
A few articles from the themed issue are highlighted below:
Drug-free macromolecular therapeutics – a new paradigm in polymeric nanomedicines
Te-Wei Chu and Jindřich Kopeček
Biomater. Sci., 2015,3, 908-922
Lipid-coated polymeric nanoparticles for cancer drug delivery
Sangeetha Krishnamurthy, Rajendran Vaiyapuri, Liangfang Zhang and Juliana M. Chan
Biomater. Sci., 2015, 3, 923-936
Enhanced transcellular penetration and drug delivery by crosslinked polymeric micelles into pancreatic multicellular tumor spheroids
Hongxu Lu, Robert H. Utama, Uraiphan Kitiyotsawat, Krzysztof Babiuch, Yanyan Jiang and Martina H. Stenzel
Biomater. Sci., 2015, 3, 1085-1095
Polymeric assembly of hyperbranched building blocks to establish tunable nanoplatforms for lysosome acidity-responsive gene/drug co-delivery
Hui-Zhen Jia, Wei Zhang, Xu-Li Wang, Bin Yang, Wei-Hai Chen, Si Chen, Gang Chen, Yi-Fang Zhao, Ren-Xi Zhuo, Jun Feng and Xian-Zheng Zhang
Biomater. Sci., 2015,3, 1066-1077