Thyroid cancer is one of the most common endocrine malignancies, and it is the cause of more deaths than all other endocrine cancers combined. Papillary thyroid cancer, a type of thyroid cancer, is often asymptomatic, but because of the progress of modern diagnostic technology its detection rate has shown a rapid increase in the past decade. It has a lower degree of malignancy than that of other types of thyroid cancers and the tumor growth rate is slow, however, it is still very serious as it can develop throughout the thyroid gland and spread extensively in the body, even spreading to distant organs. The conventional method for treating papillary thyroid cancer is surgery, but this comes with a significant risk of injury. Hence, there is a strong need for non-invasive therapeutics which can be used as an alternative to surgery in the treatment of papillary thyroid cancer.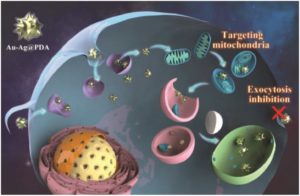 Recently, mitochondria-targeting nanomaterials have gained major attention as mitochondria are cells' powerhouse, controls various signaling pathways including apoptosis and necrosis and produce reactive oxygen species (ROS). It is important to mention that increases ROS can cause the proliferation of cancer cells and drug resistance. In this present work, researchers used a mitochondria-targeted and exocytosis inhibition strategy. They used polydopamine-coated gold-silver alloy nanoparticles (Au-Ag@PDA NPs) to target papillary thyroid cancer cells (TPC-1 cells). In order to understand the nano-bio interactions between the nanoparticles and the cancer cells, the authors systematically studied the endocytosis pathway, the subcellular localization, and the cellular responses to the nanoparticles.
The results showed that:
(i)Au-Ag@PDA NPs were internalized through a caveolae-mediated and macropinocytosis pathway, localized in mitochondria and block exocytosis pathway
(ii) This lead to cell cycle arrest in S-phase and this inhibited the cell proliferation
(iii) The TPC-1 cells can survive by an autophagy-mediated method to escape the apoptosis or necrosis
The researchers, using the mitrochondria targeting behavior of the nanoparticles, then carried out photothermal therapy for the enhanced treatment of the papillary thyroid cancer cells. These findings indicate that PDA-coated inorganic nanoparticles have potential in mitrochondria-targeted cancer treatments and, one day, these could be provide an alternative to surgery for patients suffering from papillary thyroid cancer.
Read the full paper for free until the 13th May
Targeting mitochondria with Au–Ag@Polydopamine nanoparticles for papillary thyroid cancer therapy Biomater. Sci., 2019, 7, 1052-1063
About the Web/Blog writer: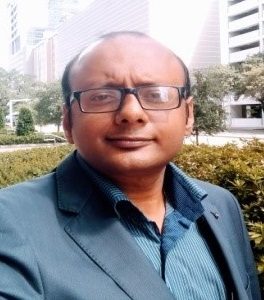 Dr. Sudip Mukherjee is a Web Writer for Biomaterials Science. He is currently a Postdoctoral Research Associate at the Rice University. His research is involved in the development of advanced nanomaterials for drug/gene delivery in cancer theranostics, immunomodulatory applications & angiogenesis. He published a total of ~35 research articles/patents. He serves as International Advisory Board Member for 'Materials Research Express', IOP Sciences. He is an associate member (AMRSC) of RSC, UK. He serves as reviewer for several international journals like ChemComm, J Mater Chem A, J Mater Chem B, Journal of Biomedical Nanotechnology, RSC Advances, IOP Nanotechnology, Biofabrication etc.
Contact Email: sudip.mukherjee@rice.edu
Twitter: https://twitter.com/sudip_88