Biomaterials Science is delighted to recognise our outstanding reviewers for their support and significant contributions to the journal. As part of the 10th Anniversary celebrations, we are highlighting some of our most loyal reviewers in a 'Reviewer Spotlight' series. We are grateful to all our reviewers and appreciate the dedication and support they give to the journal.
Jiao Jiao Li is a Biomaterials Science reviewer and has received outstanding reviewer awards for her contributions to the journal in 2019, 2020 and 2021. Find out more about Jiao Jiao below and read her interview for advice for reviewers and authors publishing in the journal.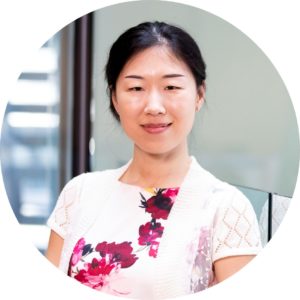 Dr Jiao Jiao Li is a biomedical engineer and medical scientist. Her research in tissue engineering and regenerative medicine aims to develop new therapies for chronic diseases, particularly for damaged bones and joints using a combination of approaches including stem cells, biomaterials, nanotechnology, and more. She is a Lecturer and Research Group Leader at University of Technology Sydney, a National Health and Medical Research Council Early Career Fellow, and Co-Deputy Director on the Australian Research Council Training Centre for Innovative BioEngineering. She was selected by Science & Technology Australia as a 2021-22 Superstar of STEM – one of 60 Australian women to serve as national role models for the community. Jiao Jiao has been recognised for her contributions to research and social impact, including in 2022 the NSW Young Tall Poppy Scientist of the Year for her nationally significant contributions to research excellence and science communication, and being named as Australia's Top 20 Under 40 Researchers. She was also the Australian winner of the international Falling Walls Lab competition in 2021. Jiao Jiao has a passion for disseminating science in the community, and for raising up the next generation of secondary and tertiary students for their future careers and leadership in STEM.
1. What do you like most about being a reviewer for Biomaterials Science?
Biomaterials Science gets a lot of high quality submissions from the field. As someone who was initially trained as a biomaterials scientist, I love seeing the latest cutting-edge work going on in the field. I myself have learnt a lot from the papers I reviewed, many of which were from groups conducting the most innovative work in my interest area of tissue engineering. I also really appreciate the efficient and transparent peer review process. By looking at my own comments compared to those of other reviewers and the editor's decision on manuscripts, I have learnt a lot about the peer review process and how to optimise the quality of my own manuscripts. Also, I think I have been reviewing for the journal for a good many years and it has almost grown up together with my academic career. I am proud to say that I have helped contribute to the growth of Biomaterials Science over the years as now a major outlet for high quality papers in the biomaterials field.
2. Do you have any advice for first-time authors seeking publication in BM?
I find that the best (original research) manuscripts all share some common characteristics: 1) the work conducted was innovative or gave some new insights into what was previously not known in the field, 2) the characterisations were done to good breadth and depth appropriate to the subject matter, and results taken together convincingly prove the conclusions, and 3) the manuscript was written in a way that demonstrates knowledge of the latest advances relating to the specific subject matter and explains the significance of the work to a possibly generalist scientific audience. Also, I find that the editors of the journal are very good at finding reviewers who have specific expertise in the topic area of the manuscript, so the manuscript needs to make sure that it well explains the specific novelty/significance of the work compared to the latest advances (e.g., why is this particular combination of fabrication process/materials composition/analysis techniques new or different from what has already been done?).
3. What would you recommend to new reviewers to ensure their report is helpful?
I think as a responsible reviewer, we should make a firm judgement about where we want the manuscript to go after the review. The best manuscripts clearly worthy of publishing should be recommended as such, but most of them are more difficult to judge. If it looks like a study that holds value for publishing in the journal but has significant room for improvement, then the report should have constructive feedback to say specifically how you expect the manuscript to be improved. This could be from both a writing perspective and from an experimental/analysis perspective. Usually if a manuscript is missing appropriate controls or the analysis was not performed correctly but the data is still worth publishing, it is not realistic to ask for new experiments to be performed but rather it is better to ask the authors to explicitly discuss these limitations in the revision. For manuscripts that clearly do not match the quality of the journal, constructive feedback should still be given to point out (politely) the critical flaws in a way that might help the authors (e.g., insufficient analyses were performed, or the study did not provide new insights compared to what has already been reported many times in the literature). Also, I find it unnecessary to scrutinise sentences for language expression unless there is a technical mistake as it is not our role as reviewers to write the manuscript for the authors, but that's just me.
4. What has been your biggest learning point from reviewing and has this affected how you approach the preparation of your recent manuscripts?
I find that the shared comments from other anonymous reviewers have really helped me a lot in benchmarking my own reviews and improving the preparation of my own manuscripts. Reviewing for Biomaterials Science has accompanied the growth of my academic career from a postdoctoral scientist to now a research team leader. Seeing the comments of other reviewers on the same manuscript, many of whom were clearly experts in the topic area gave me confidence that my feelings were correct about a particular piece of work in the field. There were some rare instances where my comments differed a lot from those of others, which I took as a valuable learning experience to see what I had missed and to benchmark my expectations. Building up my reviewing experience with Biomaterials Science over the years has definitely helped me in preparing more scientifically sound and better communicated manuscripts. It has also helped me gain realistic expectations of how my manuscripts are likely to land with expert reviewers and to better appreciate differing opinions.
You can find out more about Jiao Jiao and her research on her webpage and follow her on Twitter @JiaoJiaoLi_Syd.